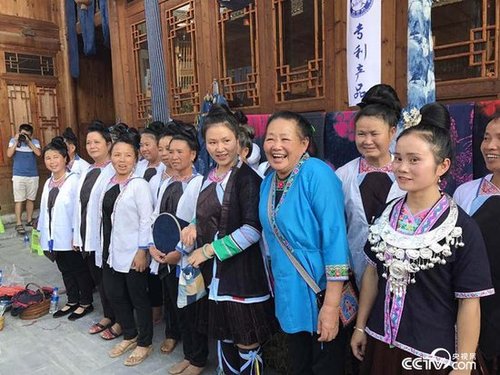 Ethnic Dong women in Liping County [CCTV]
Many women in Liping County, southwest China's Guizhou Province, have boosted their incomes in recent years by learning and passing down age-old cultural traditions.
In Liping, 90 percent of the population belong to the Dong ethnic group whose best-known crafts include indigo dyeing, embroidery and weaving.
However, most of the native people have given up wearing traditionally-dyed costumes except during festival celebrations.
Indigo dyeing and embroidery skills are no longer essential skills for Dong girls to master during their growth.
The question of how to inherit and protect these techniques for the benefit of more and more people has become a subject faced by the local government and ethnicities alike.
"When I worked in south China's Guangdong Province, I earned not very much and was unable to look after my parents and children. Now I embroider at home and make 3,000 yuan (U.S.$ 449) a month," said 33-year-old Dong embroiderer Shi Chengfeng from the county's Guigong Village.
Changes to Shi's life originated from an embroiderer-cultivation project supported by the government of Liping.
In Dong villages across the county, many women have gained stable revenue for their families by learning and engaging themselves in traditional crafts-making techniques.
"We ask embroiderers to be in charge of one step each and provide them with targeted training. In this way, products can be made faster and better," said 32-year-old entrepreneur Lu Yongmei.
Under the project, Lu began to lead local embroiderers to inherit and protect indigo dyeing and embroidery techniques, through which they have improved their financial conditions.
In 2014, Lu opened the Liping County Traditional Crafts Farmers' Professional Cooperative, gathering embroiderers scattering across the county together.
She provides designs to cooperative members and helps them extend sales channels. Through constant innovation, they developed a series of products including artworks, clothes, scarves and decorations and have sold them overseas.
In 2015, Lu's cooperative generated an annual production value of over 300 million yuan (U.S.$ 451,059), helping some 200 nearby rural households achieve employment.
In the past two years, Lu provided training to more than 600 people, enabling over 360 women to shake off their disadvantaged status.
Under the guidance and support of the project, many craft experts like Lu have set up their own companies and cooperatives in recent years.
Adopting a development model that integrates cooperative, base and rural households, these entrepreneurs organize outstanding embroiderers to give training services to local women, promoting standardization, scaling and the marketization of many traditional techniques.
"Such training not only innovates and develops our intangible cultural heritages but also helps folk art practitioners achieve prosperity. It makes full use of cultural industry's role in poverty alleviation," said Liao Yonglun, a local cultural official.
(Source: CCTV/Translated and edited by Women of China)