Dong people butcher animals before the dawn. [Women of China/Zhang Ping]
Every year, locals in Huanggang Dong Village, southwest China's Guizhou Province, celebrate Goddess of Thunder Worship Festival, during which time they butcher pigs and prepare a generous communal banquet.
In the region, there are more than 320 Dong households who still keep their ethnic culture and traditions alive, which have lasted for thousands of years. Nowadays, the village is a famous tourism destination.
They still talk in their native language and over 90 percent dress in traditional clothing.
Locals celebrate the Goddess of Thunder Worship Festival (Han TianJie) on the 15th day of the sixth Chinese lunar month each year.
The festival originated from the legend of a priest named Wu Weimin.
As locals in the region struggled to survive regular two-year droughts, the head of the village traveled to the mountains and rivers to ask for help from Wu.
Wu was glad to assist and on that day, many people from nearby came to watch.
Pork, chicken and fish were prepared, after which Wu began to chant lyrics asking for a blessing from Goddess of Thunder. According to Dong people, she is in charge of the rain and the harvest.
When he finished, dense clouds gathered and it soon began to pour. To commemorate Wu and express their appreciation for the Goddess, the day was delegated as their festival.
A chant can generally last two or three hours. If it rains, villagers halt immediately.
This ritual is also followed by a Long Table Banquet, bull fighting, reed-pipe singing and dancing.
A mother helps her daughter dressed up. [Women of China/Zhang Ping]
Children dress up to attend the festival. [Women of China/Zhang Ping]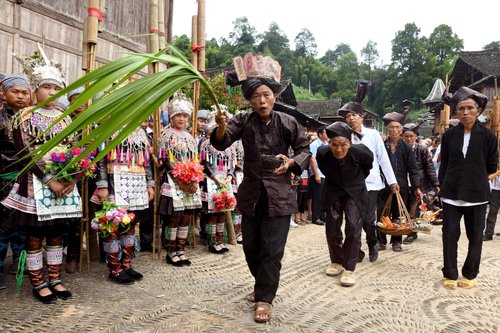 The priest leads villagers to the site of the worship. [Women of China/Zhang Ping]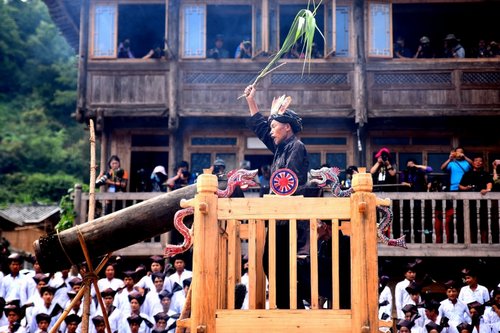 The priest beats the a drum while chanting the lyrics.[Women of China/Zhang Ping]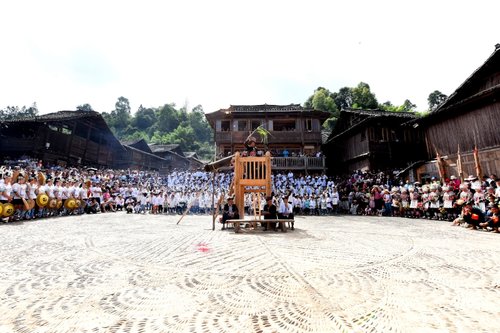 Locals worship at the center of the village. [Women of China/Zhang Ping]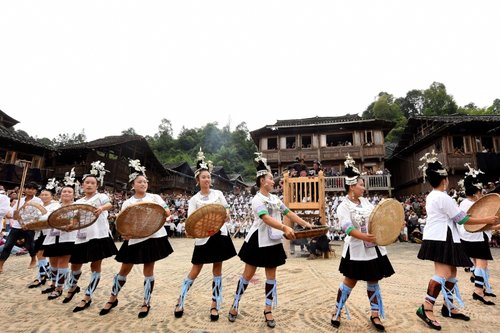 Local girls and young women dance for good weather and the harvest. [Women of China/Zhang Ping]
Young men blow reed-pipes while young women dance. [Women of China/Zhang Ping]
Young women of neighboring villages dance at the festival. [Women of China/Zhang Ping]