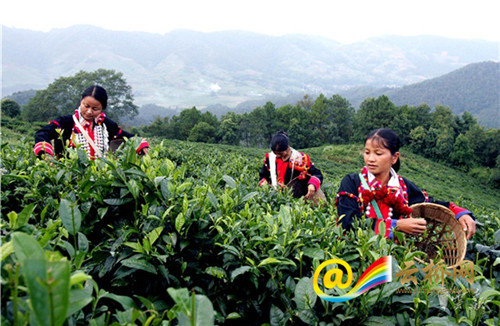 De'ang people grow tea leaves in Yunnan Province [yunnan.cn]
Twenty-six ethnic groups live in southwest China's Yunnan Province. These groups and their colorful traditions add to the variety and richness of Yunnan's culturescape. Today we'll focus on the De'ang people.
The De'ang people mainly live in Yunnan's Dehong Dai and Jingpo Autonomous Prefecture and the city of Lincang.
They love drinking tea and have a tea growing history of 1,000 years, and thus reputed as "ancient tea farmers". Tea has a unique function in their social life. The basic gift for visiting a house is a bag of tea. An invitation letter is often sent with a small bag of tea decorated with a red thread. A letter of apology is also sent with a bag of tea.
Most De'ang people believe in Hinayana Buddhism, so Buddhist temples could be found in most villages. De'ang men usually wear black coats and loose trousers, while women like to have their hair shaved, and then wrap heads with black cloth. They wear big earrings, thick silvery necklaces, blue or black overcoats, and rattan waistbands.
De'ang women on a tea farm in Yunnan Province [yunnan.cn]
De'ang people perform a dance. [yunnan.cn]
(Source: yunnan.cn)
Please understand that womenofchina.cn,a non-profit, information-communication website, cannot reach every writer before using articles and images. For copyright issues, please contact us by emailing: website@womenofchina.cn. The articles published and opinions expressed on this website represent the opinions of writers and are not necessarily shared by womenofchina.cn.