Staff members in the Minzuyu Translation and Dubbing Center in northwest China's Qinghai Province [Xinhua]
For years, a special TV dubbing center in northwest China's Qinghai Province has translated numerous programs into Tibetan to enrich local resident's lives.
The Minzuyu Translation and Dubbing Center, established in 1980, is a professional institution which has processed nearly 10,000 broadcasts for Tibetan people.
According to its director, Zhaxi, with the development of digital technologies and the improvement of facilities, the institution can annually translate and dub 1,300 hours of films and TV programs, including 50 feature films, 10 documentaries and some 1,600 TV episodes.
They also deal with local culture-featured programs and broadcasts, and are now 5.5 times faster than before.
With the improvement of the level of translation, staff members can produce programs with more varieties.
In recent years, the center has also created more Tibetan language broadcasts related to dramas, novels and Gesar rap, a traditional Tibetan style of song, winning widespread popularity.
Zhaxi said since the country enacted a series of projects to develop communication devices, an increasing number of ethnic language shows have been presented to local residents, enabling nomads to acquire cultural products.
"Our center provides TV shows for people in some 30 prefectures and counties in the Amdo Tibetan region," said Zhaxi.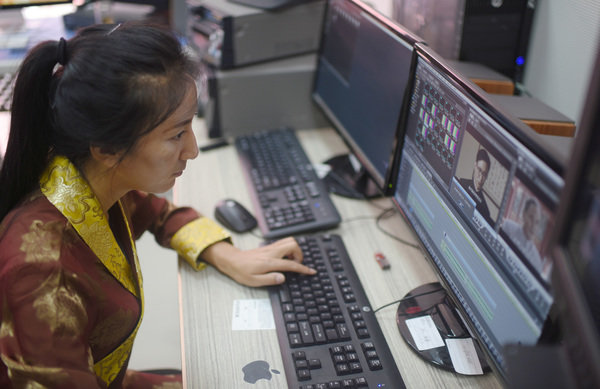 A staff member in the Minzuyu Translation and Dubbing Center in northwest China's Qinghai Province [Xinhua]
(Source: Xinhua/Translated and edited by Women of China)