Shao Meihan speaks on a live-streaming program. [Gmw.cn]
In China, many ethnic minority women are skilled artisans because some unique crafts have been traditionally passed down from mother to daughter for generations.
Shao Meihan – a 53-year-old folk artist from Nongme Village of Dehong Dai and Jingpo Autonomous Prefecture in southwest China's Yunnan Province – has dedicated to preserving the art of paper-cutting of the Dai ethnic group for four decades.
Media outlet Gmw.cn and live broadcasting platform Douyu.com jointly live-streamed an interview with Shao at her paper-cutting museum on August 11.
The activity was part of a large series of live-streaming events supported the Ministry of Culture which aim to pay tribute to the nation's intangible cultural heritages and countless artisans silently sticking to traditional art.
Recording Life of the Dai Through Paper-cutting
Shao is a well-known figure in her village and locals call her the "Master of Dai Paper-cutting".
In 2012, the Ministry of Culture nominated Shao as a national-level inheritor of the Dai paper-cutting art.
Shao began to learn the craft at 13 from her grandma. "Before making a small paper-cutting, I don't draw patterns beforehand but I think them up carefully in my mind. This step makes half of the success," said Shao.
Exhibits at Shao's museum are her works from recent years – themed on auspicious images such as the Buddha, lotuses and elephants, as well as the scenes of Dai people plowing, transplanting rice seedlings and grinding soya beans to make tofu.
In particular, A Peacock Spreading Tail Feathers that nearly covered a wall attracted viewers' attention. The large paper-cutting featured the nation's 24-character "core socialist values", namely "Prosperity, Democracy, Civility, Harmony, Freedom, Equality, Justice, Rule of Law, Patriotism, Dedication, Integrity and Friendship."
Shao said it took her over two months to finish and consisted of 12 separate cuttings.
As she introduced her creations one after another, Shao also explained to netizens the Dai culture and life behind it.
"Many scenes captured in the cuttings are the past life of villagers. Nowadays, plowing and grinding soya beans have basically been replaced by machine. Bamboo buildings of Dai villages are also rarely seen," she said.
When talking about her works themed on the courtships of young people of the Dai ethnic group, audiences asked one after another: "Do they have any love songs?" "Are there any special tokens of love?"
Netizens' enthusiasm put Shao in high spirits. The versatile artisan sang and danced in front of the camera. "These also pool sources for my creation," she said.
Giving Training on Paper-cutting
To extend her good wishes to audiences, Shao took up her scissors during the broadcast. In some 10 minutes, several fully-bloomed lotuses turned up in front of the camera.
"Paper-cutting is an activity that makes me mentally and physically happy. Buddha, peacock, lotus, and elephant are all auspicious things in Dai people's eyes so locals feel happy to get such cuttings as gifts," she explained.
In the past three years, in addition to providing a platform for art appreciation, Shao's museum also served as an inheriting and studying institute. In slack seasons, many women from nearby villages come here to learn the craft.
With the support of the local cultural department and grassroots women's federation, Shao organizes a 10-day training session each year with the aim of encouraging more women to spread the traditional folk art.
Moreover, she set up an extracurricular interest class at a local primary school, attracting a lot of participants.
Dai Paper-cutting: A Folk Art Originated from Religious Sacrifice
In China, paper cutting is a popular folk art. Different from those in other parts of the country, the paper-cutting of Dai people grew out of the paper streamers used in the Dai's sacrificial ceremonies.
Later, under the influence of Buddhist culture and the culture of the Han ethnicity, it gradually evolved into a systematic technique and has been extensively applied in weddings, funerals, festivals and home decoration.
Almost every Dai villager in Dehong can practice paper-cutting, the contents of which range from sacrificial articles such as flags and offerings to farming activities.
Wielding a pair of scissors, Dai people have recorded their daily life through their vivid creations.
In 2006, Dai people's paper-cutting was added to the country's list of intangible cultural heritages. Three years later, as part of China's paper-cutting art, it was included on the UNESCO world intangible cultural heritage list.
Shao Meihan performs a dance. [Gmw.cn]
An awarded work of Shao Meihan [Yunnan Women's Federation]
Shao Meihan makes a paper-cutting. [Gmw.cn]
A Peacock Spreading Tail Feathers [Yunnan Women's Federation]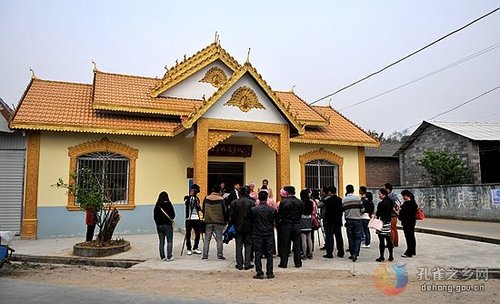 Shao Meihan's paper-cutting museum [Gmw.cn]
Local women make paper-cuttings at Shao's museum. [dehong.gov.cn]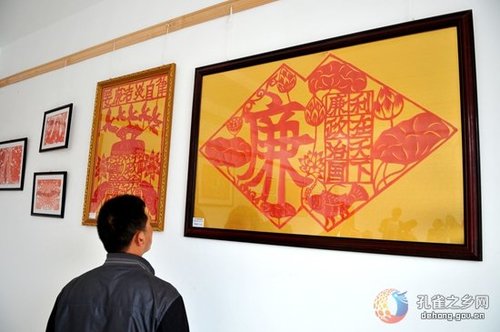 Paper-cuttings at Shao's museum [dehong.gov.cn]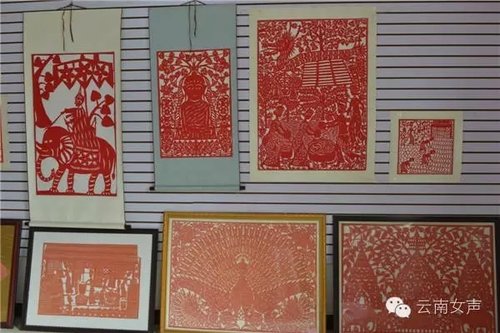 Works displayed at Shao's museum [Yunnan Women's Federation]
(Source: Gmw.cn/Translated and edited by Women of China)