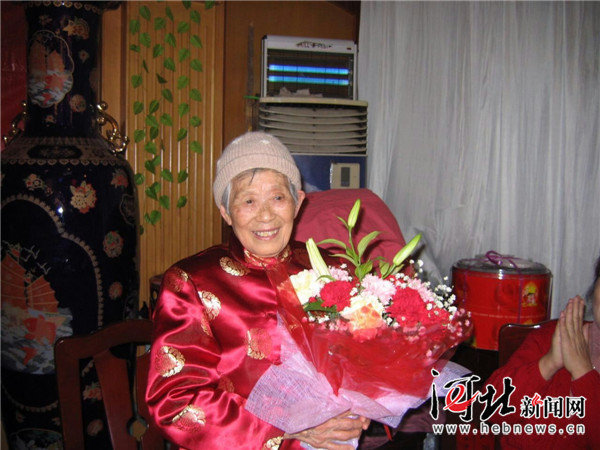 Chen Fayun [hebnews.cn]
Chen Fayun, one of the few surviving female soldiers from north China's Hebei Province who took part in the country's historic Long March, passed away on January 3, 2017 at the age of 105.
Born into a rural family in Tongjiang County in southwest China's Sichuan Province, in 1932, Chen joined the Red Army aged 20.
Later, she served as a medical worker in the Independent Women's Regiment of the army in Sichuan and at a health center in the Shaanxi-Gansu-Ningxia border region.
Due to her strong beliefs and loyalty, she tenaciously took part in the 12,500 kilometers-long trek; and, served in both the Chinese People's War of Resistance Against Japanese Aggression (1937-1945) and the Liberation War (1945-1949).
Thanks to her contributions, Chen was been presented with a souvenir medal in 2016 to mark the 80th anniversary of the victory of the Red Army's Long March.
Chen's daughter Yin Chunguang said in an interview: "After the foundation of the New China, my mother was transferred from the army to civilian work in Hebei. Then she worked at a factory which was one of the biggest pharmaceutical enterprises in China."
"In her job, my mother always showed a resolute determination about the Party's arrangements. She constantly made efforts to finish her duties with proper diligence," Yin added.
Although repeatedly named as an enterprising worker and outstanding CPC member, her mother seldom mentioned her past services to the nation, Yin stated.
The daughter revealed that her father held the post of assistant production manager at her mother's pharmaceutical enterprise. However, her mother never told her partner to use his power to help her gain any promotion, Yin remarked.
Hence, Chen worked as an ordinary supervisor at her unit until she retired.
Yin recalled that her mother usually said, "Relying on my own strength, I will do my best to complete my job."
Moreover, from 1952-1982, Chen and her spouse passed over multiple opportunities to increase their salaries at the enterprise. "Leave the chance of raised salaries for the young people," they said.
Since her retirement, Chen showed a great passion for public welfare events. In the past, she donated around 20,000 yuan (U.S.$ 2,895) and other daily supplies to quake-hit regions including Wenchuan and Yushu and impoverished areas in her hometown.
In addition, before her death, Chen told her children to arrange a simple funeral for her, Yin concluded.
(Source: guancha.cn/Translated and edited by Women of China)