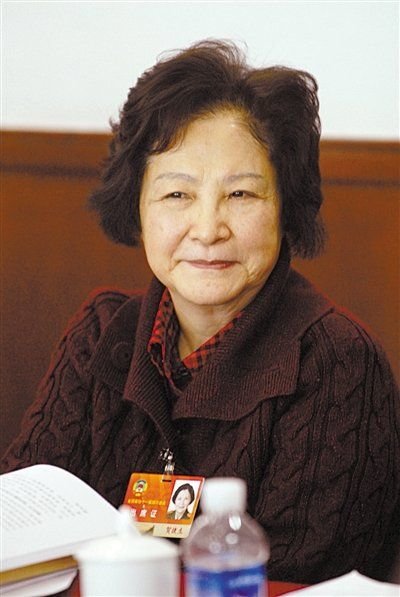 He Jiesheng attends a meeting. [Baidu]
The 2nd and 6th troops of the Red Army began their famous historical Long March on November 1, 1935. Their ranks included two young girls, both of whom were present at the birth of the Chinese revolution.
According to the statistics, the average age of the members of the Chinese Red Army was only 18. Some historical materials also indicate that the youngest soldier, Xiang Xuan, was only 9 at the time.
In fact, there were even younger people around then. Those in the Long March included the children of army leaders. However, as the environment was extremely severe, only two such infants survived to see the founding of the new China for themselves.
One survivor was the daughter of Marshal He Long; the other was the daughter of military leader Ren Bishi. Both of them later became outstanding women in their own country.
That November, He was commanding the sniper army on the battlefield. Just after hearing news of her husband's victory, He's wife Jian Xianren gave birth to their daughter, who was later named He Jiesheng.
After some twists and turns, He decided to bring his daughter along with him to go through the arduous Long March. The army officials also accepted the newborn child.
On November 19, in a cradle carried by a mule, little He Jiesheng became a member of the Long March. When the army arrived in the revolutionary base in northwest China, He was already a year old.
Ren's daughter was born in a courtyard of a Tibetan community as the 2nd troop arrived at the northwest plateau of Sichuan Province, southwest China. The courtyard was actually used for keeping sheep. In the hostile environment, Ren named his daughter Yuanzheng, which means "long march", to mark the event.
Now a senior citizen, Ren Yuanzheng recently said she does not know the exact date of her birth, because the war situation was so urgent her parents had no time to mark the occasion.
After China's liberation, He Jiesheng became a minister of the military research center of the Academy of Military Sciences. Ren Yuanzheng was engaged in scientific research in the aviation institution and the National Satellite Meteorological Center.
(Source: Xinhua/Translated and edited by Women of China)