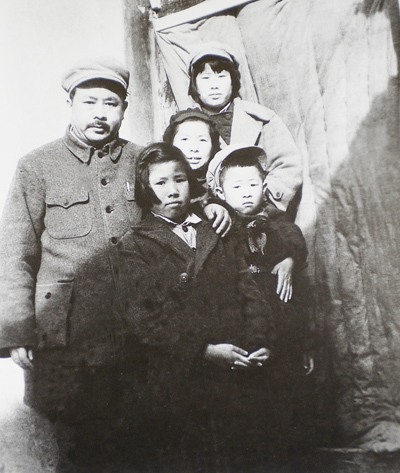 Ren Bishi and his family in Xibaipo, the historical revolutionary site in north China's Hebei Province in the spring of 1948 [China Women's News / Yang Rui]
Which army corps launched the Long March of China's Red Army? According to the book What Do You Know about the Long March? (People's Liberation Army Publishing House), in August of 1934, about 9,000 troops of the Red Army left southwest China's Sichuan Province, then part of the Hunan-Jiangxi Province military zone, to begin their march west. The corps was the renowned Sixth Legion of the Red Army led by Ren Bishi, Xiao Ke, Wang Zhen and other military leaders. In October, reporters from the Women of China website visited Ms. Ren Yuanzheng, Ren Bishi's second daughter, and listened to her stories as a descendant of the Red Army.
The Toils of the Long March
On October 9, 1936, the Fourth Legion of the Red Army reached Huining in northwest China's Gansu Province to join the First Legion. On October 22, the command center of the Second Legion joined the First Legion in northern Jingning, Gansu Province. Finally, the Second and Fourth Legions successfully completed their Long March. Just two months before, Ren Bishi, commissar of the Second Legion, was leading his troops in the difficult crossing of the Aba grassland of Sichuan Province, and it was at this time that Ren's wife Chen Congying was about to give birth.
Chen was one of the few Second Legion women warriors on the Long March.
In November, 1935, when the Second and Sixth Legions led by Ren and He Long left western Hunan on the Long March, Li Zhen, Chen and 20 other female soldiers were among them. These female soldiers were not in their own brigade but withstood the harsh challenges of the Long March alongside the men.
"My mom gave birth to me in a sheep pen at a Tibetan farmer's house. Their house had two levels with people living above the sheep. You went upstairs on a narrow tree trunk with some carvings. My mom couldn't climb since she was really pregnant, and there was no time to spare, so I arrived inside a sheep pen," Ms. Ren Yuanzheng, a woman who just celebrated her 80-year-old birthday, shared about the story of her birth.
"As a baby, I started to travel with the troops on the Long March. If another baby (He Long's child He Jiesheng) hadn't already been born on the Long March, I would have to be raised by the locals. I later joked to my dad that if they left me behind, I'd have grown up as a Tibetan girl."
Several female soldiers gave birth on the Long March, but most of the babies were either given up to local families or died in infancy. Only two babies survived the turmoil, one of them being Ren Yuanzheng.
Chairman Mao wrote in his Verse for the Long March: "The Red Army is not afraid of hardships; they will conquer the mountains and rivers. Let the winding hills gather and the rolling clouds tumble."
No words could describe the incredible hardships the Red Army endured on the Long March. To survive the journey was a miracle in itself. The strength of the female Red Army soldiers is part of the lasting spirit of the Long March.
The Enduring Spirit of the Long March
Ms. Ren opened up a family album and reminisced about her parents' revolutionary careers and lifelong love.
In August of 1920, Ren Bishi was inspired by the May Fourth movement to join the revolution. The Russian Research Committee in Changsha, central China's Province founded by Mao Zedong and He Shuheng dispatched Ren to the Shanghai Foreign Languages Institute to learn Russian in preparation for studying abroad. Ren's wife, Chen Congying, was just 18 years old. As she did not even know her husband may not return at all, she supported his decision.
"Go. Don't worry about us. I'll look after our family." Chen packed hand-knitted cotton socks for her husband. They wouldn't see each other for another six years.
But they were each other's one and only for all their lives.
They had no romantic vows, just an everlasting promise and endless longing. Their love and devotion gave birth to nine children, five of whom were lost or died during the war.
"They were devoted to each other. They had known each other since they were kids. My mom taught herself after being inspired by my dad. Then she joined the revolution too," said Ms. Ren.
In the fall of 1928, Ren Bishi was arrested in Anhui. When Chen tried to rescue her husband, she couldn't get a train ticket, so she had to climb onto a truck with her infant daughter. The cold wind lashed the mom and baby; in spite of being held tightly in her mom's arms, the baby died from pneumonia.
Ren Bishi grew very sick on the Long March. At one point, he could only work from a stretcher. Chen was carrying a password case, and looked after him as much as she could. Due to constant hunger and her slight build, she was overlooked and left behind by the rest of the troops. Luckily, some locals helped her catch up.
"My mom was very short and thin, and she was shorter than me. She dedicated her whole life to the revolution. She was a strong woman who lived simply." A renowned poet A Yuan (Chen Zhongyuan) said Chen always described herself as "a woman of cloth".
Ms. Ren said they were an ordinary worker's family with a simple lifestyle, yet she and her younger brother had a rich spiritual life. Both worked in jobs that served society.
"My mom lived to be 102 years old." Ms. Ren believes her mother's secret of longevity was her dismissal of wealth and fame. "My mom worked in administration her whole life and she was all about following rules. But she was also very low-key and never had any attitude."
Chen had a spirit unique to female soldiers who survived the Long March. She never gave up and she never complained. There was nothing too hard or too difficult. The revolutionary path imbued her with pure ideals and a determined character.
Ms. Ren is still easy-going and optimistic in her elderly years. "Our life is simple. We don't like fancy food, and usually just do stir-fry. We're from Hunan, so we like to add chili pepper, some fermented black beans and a bit of meat, and that is a great meal for us."
Ms. Ren wrote down the words "Long Live the Spirit of the Long March!" in calligraphy as a memento for China Women's News reporters.
Her mom liked to write in script when she was alive as well, which is why Ms. Ren keeps an inkwell and calligraphy paper in her living room to this day. "Writing is good for the soul and the spirit, so I will keep the habit," said Ren.
Ms. Ren Yuanzheng shows a painting of her father Ren Bishi during the interview. [China Women's News / Yang Rui]
(Source: China Women's News/Translated and edited by Women of China)