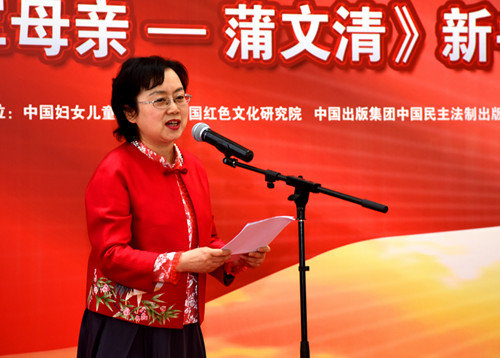 Yang Yuan, deputy-curator of the Chinese Museum of Women and Children, presides over the ceremony. [Women of China/Zhang Ping]
A biography of a female red army soldier named Pu Wenqing was released at a ceremony at the Chinese Museum of Women and Children in Beijing on March 8, to mark the 80th anniversary of the Long March.
The Long March (October 1934 –October 1936) was a military retreat undertaken by the Red Army of the Communist Party of China, the forerunner of the People's Liberation Army, to evade the pursuit of the Kuomintang army.
Named My Red Army Soldier Mother –Pu Wenqing, the book was written by Pu's daughter He Li.
During the ceremony, He, along with Chen Haosu, who was the son of Chinese communist military commander Chen Yi, and former red army soldier Zhang Min, delivered speeches respectively.
The offspring of China's founders also performed choruses, bringing the ceremony to its rousing, songful conclusion.
He donated copies of the new book, along with a further biography of her father, to the museum and to the National Library of China. The museum presented a donation certificate in return.
The ceremony was jointly launched in association with the China Red Culture Institute and the China Democracy and Law Press. Over 200 individuals including offspring of Chinese revolutionaries and guests from social circles attended the event.
Pu was born into an impoverished family in Bazhong County, southwest China's Sichuan Province, in 1918.
In September 1933, she escaped from her nightmarish life and joined the Fourth Army division of the Red Army. She became a nurse and started out on the Long March the following July. In 1937, she became a member of the Communist Party of China (CPC).
In the following War of Resistance against Japanese Aggression (1937-1945), Pu worked with her comrades in Yan'an, northwest China's Shaanxi Province. In 1939 married He Bingwen, a transportation officer in Yan'an. They had two daughters and five sons, all of whom became soldiers and members of the Party.
Former red army soldier Zhang Min speaks during the ceremony. [Women of China/Zhang Ping]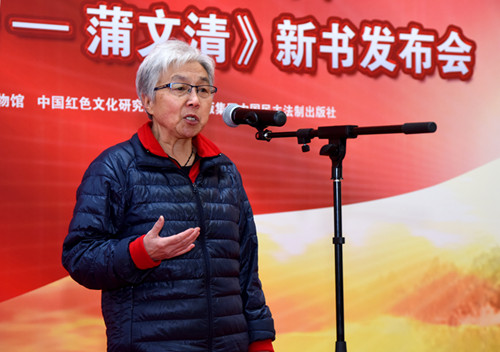 He Li, writer of the biography, speaks during the ceremony. [Women of China/Zhang Ping]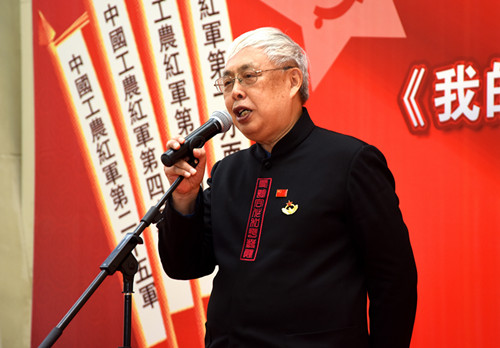 Chen Haosu, the son of Chinese communist military commander Chen Yi, speaks during the ceremony. [Women of China/Zhang Ping]
He Li (C) receives a certificate after donating her new book to the Chinese Museum of Women and Children. [Women of China/Zhang Ping]
The offspring of China's founders performs choruses during the ceremony. [Women of China/Zhang Ping]