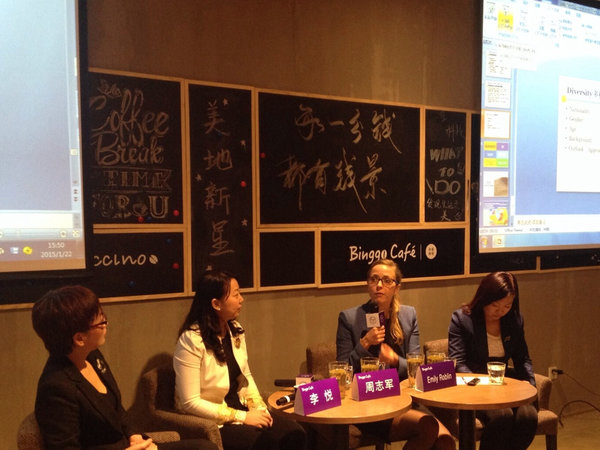 Female entrepreneurs share their experience with the audience.[Women of China]
A startup salon for female entrepreneurs was held in Beijing on January 22, 2015. Female entrepreneurs, women with entrepreneurial aspirations, representatives of investment corporations and large enterprises all attended the event.
Launched in 2014, the women's startup salon is jointly put on by the Beijing Women's Federation and the Beijing Women's International Exchange Center. It aims to provide entrepreneurial-minded women with a platform for meeting like-minded individuals and sharing their experiences as well as to provide successful entrepreneurs across various fields with the opportunity to share their resources and acquired information with others.
To be held once a month, the salon on January 22 marked the first of the startup salon series for 2015. To expand the global perspective of female entrepreneurs, it cooperated with Cartier, conducting an international competition — the Cartier Women's Initiative Awards — for female entrepreneurs.
In addition, Emily Robin, a Canadian columnist for Women of China English Monthly and an expert in effective communication, cross-cultural communication and female leadership, was also invited to share her own startup experience and analyze women's advantages and potential in this lucrative field.
In 2015, the salon will be held regularly once a month with different themes and with different guest experts from various fields of expertise, enhancing the startups of female entrepreneurs in Beijing and building a comprehensive platform for them to pool resources and conceive new enterprises.
Please understand that womenofchina.cn,a non-profit, information-communication website, cannot reach every writer before using articles and images. For copyright issues, please contact us by emailing: website@womenofchina.cn. The articles published and opinions expressed on this website represent the opinions of writers and are not necessarily shared by womenofchina.cn.