President of Yunnan Women's Federation He Hongmei (L2) gives a speech at the training seminar's opening ceremony. [Yunnan Women's Federation /Tang Chuanbin]
Yunnan Women and Children's Development Center and Baoshan Women's Federation jointly launched a nine-day training seminar in Kunming, capital city of southwest China's Yunnan Province, on September 7 to further the cooperation and exchanges between Chinese women and their counterparts from Myanmar about the protection of women and children's interests and the promotion of their growth.
The training event, which was sponsored by Yunnan Provincial People's Government and managed by Yunnan Department of Commerce, drew the attendance of 29 female officials, technicians and practitioners engaged in women and children's affairs from Shan and Kachin states in the southeast Asian country.
During their stay in Yunnan, trainees attended a series of lectures related to the improvement of their professional competence, children's nutrition and health, women's healthcare, and other similar topics. In addition, they toured Kunming Children's Hospital, Yunnan Education Center for Environmental Protection, Yunnan Normal University, Yunnan Minzu University and Kunming Innovation Center for Women's Business Startup.
In her speech at the opening ceremony, President of Yunnan Women's Federation He Hongmei emphasized the importance of the training seminar and its goals, and instructed two organizers to ensure its success. She called on relevant departments to further promote cooperation between Yunnan and its neighboring nations in women and children's affairs and family issues, and to help local women engage themselves in civic diplomacy for the interests of Yunnan's closer integration with southeast Asian countries.
Wu Suobai, consul general of Consulate-General of the Union of Myanmar in Kunming, hoped that both sides would strengthen their cooperation and exchanges in the advancement of women and children's interests.
Those in attendance of the opening ceremony included officials from local departments of commerce, education, health and family planning.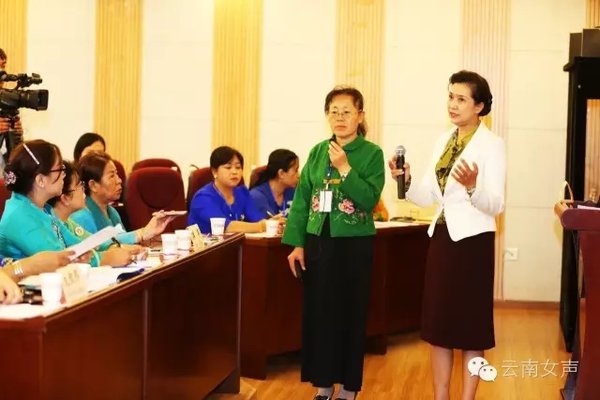 President of Yunnan Women's Federation He Hongmei (R) speaks with trainees at the training seminar's opening ceremony. [Yunnan Women's Federation /Tang Chuanbin]
Attendees at the training seminar's opening ceremony [Yunnan Women's Federation /Tang Chuanbin]
Attendees at the training seminar's opening ceremony [Yunnan Women's Federation /Tang Chuanbin]
Attending officials pose for a group photo at the training seminar's opening ceremony. [Yunnan Women's Federation /Tang Chuanbin]
Trainees from the Union of Myanmar pose for a group photo at the training seminar's opening ceremony. [Yunnan Women's Federation /Tang Chuanbin]
(Provided by Yunnan Women's Federation)