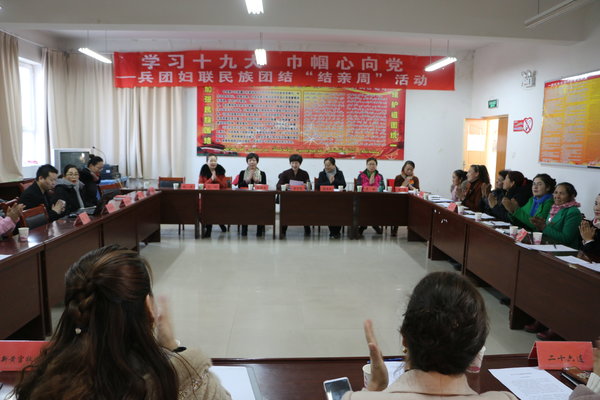 Zhang Zhihui (L3, front) attends a gathering with local officials and representatives of residents there on December 20. [Xinjiang Production and Construction Corps Women's Federation]
Zhang Zhihui, president of the women's federation in Xinjiang Production and Construction Corps (XPCC), headed a three-person delegation to live together with local people from three companies of the 51st Regiment in the Eighth Division of the XPCC, convey key spirits of the 19th National Congress of the Communist Party of China (CPC), and consolidate the formation of racial unity from December 17 to 20.
This is part of a campaign launched by the CPC Xinjiang Uygur Autonomous Regional Committee from December 11 to 31 across the entire region to arrange for local officials to stay at local people's homes, join in their normal activities, and jointly learn spirits of the recently concluded key session's over the span of a week.
Apart from taking their own daily necessities along with them, these officials have to pay for their meals with the families concerned.
Along with her colleagues, Zhang held a gathering with local officials and residents on December 20. She pointed out that the prominent progress made by China in the past five years is the result of hard work by the CPC and people from all ethnic groups, just as General Secretary Xi Jinping declared in his report at the opening ceremony of the 19th CPC National Congress on October 18.
As socialism with Chinese characteristics has entered a new era, she continued at the gathering, the XPCC will stick to its position, advance its day-to-day work in accordance with actual circumstances, encourage women to give their full play in family affairs, ensure each household to be a strongpoint of social stability, and work for steady progress towards prosperity and strength.
For their part, officials from local women's federations said that they would make a thorough study of Xi's report, increase the quality and efficiency of their work, hold closer interactions with grassroots people, broaden local women's access to modern culture and scientific technologies, provide them with strong support in their daily difficulties, and rally more efforts from them in the fight against religious extremism.
In addition, the delegation held a flag-raising ceremony with local people early on the morning of December 18 in an effort to deepen their patriotism.
What's more, they also visited local impoverished families and made dumplings together to celebrate the arrival of the Winter Solstice festival, which fell on December 22 this year. In Chinese culture, it marks the beginning of the deep winter and is a break from farming in traditional agricultural society. It is also a time for family gatherings.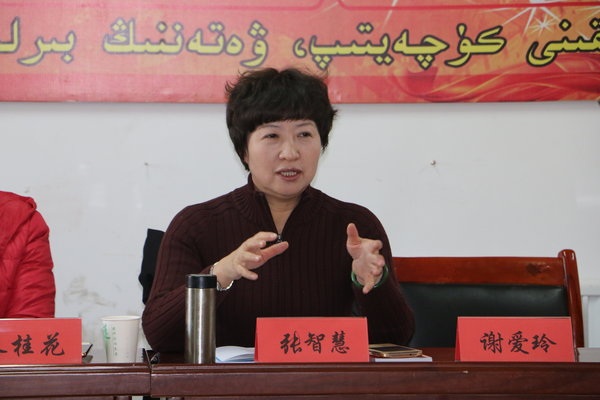 Zhang Zhihui gives a speech at the gathering. [Xinjiang Production and Construction Corps Women's Federation]
A local elderly single mother embraces Zhang Zhihui (R) during her visit. [Xinjiang Production and Construction Corps Women's Federation]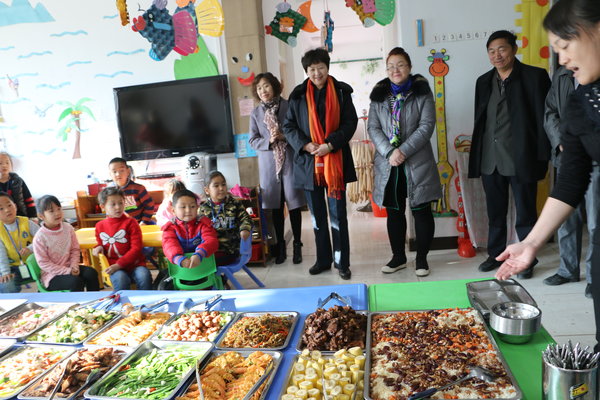 Zhang Zhihui (R3) checks the food provided in a local kindergarten. [Xinjiang Production and Construction Corps Women's Federation]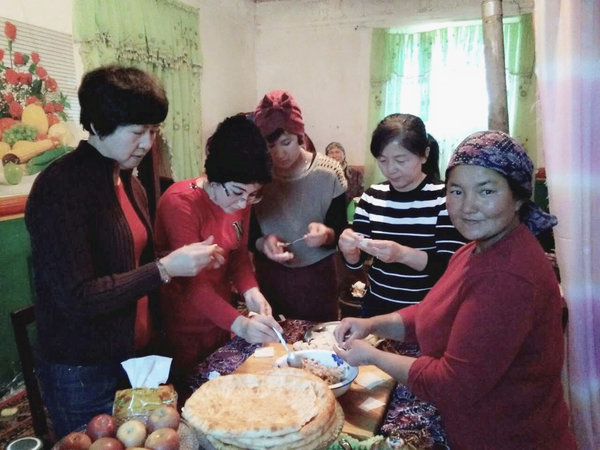 Zhang Zhihui (L1) makes dumplings together with local people. [Xinjiang Production and Construction Corps Women's Federation]
(Source: Xinjiang Production and Construction Corps Women's Federation/Translated and edited by Women of China)