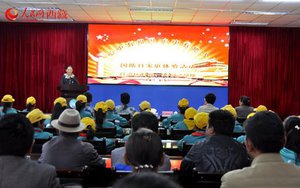 Students and their parents watch a documentary named "Hero of Cambara". [Ren Xiaopan]
To coincide with the 14th National Defense Education Week from September 20 to September 26, more than 100 pupils and their parents from Dangba Primary School in Lhasa, capital city of southwest China's Tibet Autonomous Region, attended a patriotic activity on September 20.
The event was jointly hosted by the Tibet Women's Federation, the Autonomous Regional Tutor Committee, and a radar station of the Stationed Air Force in Tibet.
The pupils and their parents watched a documentary named "Hero of Cambara", visited the Military Museum and listened to a report by Li Zhihua, the political instructor of Cambara radar site.
According to Jiangcuo Lamu, president of Tibet Women's Federation, national defense is closely related to every Chinese citizen, and our country consists of every single family. Jiangcuo Lamu hopes all the students will work hard and inherit the good spirit of our excellent soldiers.
"We can tell from the documentary, the People's Liberation Army (PLA) soldiers have made great contributions to national peace in spite of the hard living and working conditions. I will learn from them, study hard and make contributions to my motherland when I grow up!" said Suolang Deji, a Grade 5 student in the school.
There are several radar stations in the Ngari area in Tibet. Cambara radar station, founded in October 1965 and located on Cambara Mountain at an elevation of 5,374 meters, is the highest radar station in the world. The station was named "Hero Radar Station of Cambara" by the Central Military Commission in June 1994 having successfully guarded against India and guided both military and commercial pilots across the mountainous terrain.
During the National Defense Education Week, the Tibet Government will set up 16 promotional spots in Yutuo Road, Lhasa. Over 1,000 people, including leaders, workers, students and military soldiers will be organized to visit the Military Museum of Tibet Military Region, the Military Museum of Tibet Defense Team of China Armed Police, Tibet Museum and other places of patriotic value.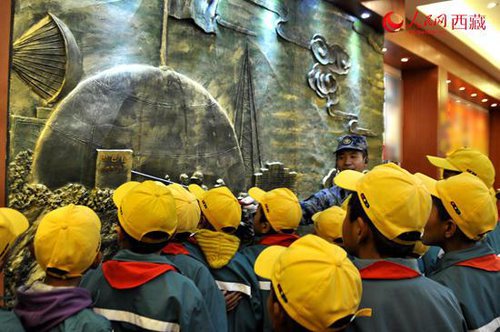 Students and their parents visit the Museum of Tibet Military History. [Ren Xiaopan]
(Provided by Ren Xiaopan/Translated by Women of China)