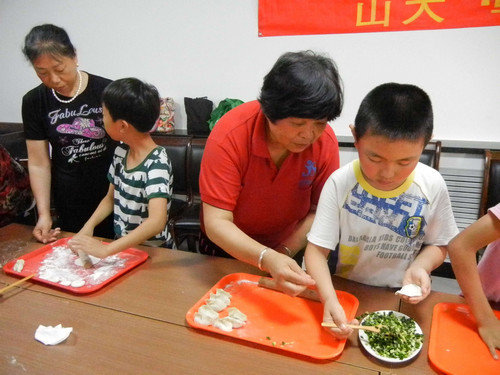 Children learn to make dumplings under the guidance of community volunteers in the "Three and Half Children's Fun Time" project. [wenming.cn]
Weihai Women's Federation in east China's Shandong Province has actively promoted local public welfare projects in the city, providing more benefits and better service to women and children in their daily lives.
Donated Books Foster Local Reading Sessions Open to Public on Weekends
Public reading sessions, or small libraries with the attractive name "Little Shells", have proved popular among children in the coastal city of Weihai.
With free access on weekends, the reading activity is expected to create a comfortable setting for children and their parents to browse books donated by people from various fields.
Cong Xiaohong, an organizer in charge of the project, noted that "Little Shells" is one of the most successful projects that have been set up in the region.
Cong added that over 11 such public libraries have already been built so far in the urban district of Huancui, with this number increasing annually.
Women's Public Welfare Projects
Since 2015, local women's federations have been serving women and children with public welfare projects.
Moreover, these projects can be categorized into several major areas, such as the development of women's startups; protecting the legal rights and interests of women and children; improving professional skills among female employees; enriching women's recreational activities; improving educational levels among family members; and promoting the prosperity of mutual assisting teams among communities, said an official from the district of Huancui.
So far, a total of 10 such events have been successfully established in the region. More potential projects are expected to stand out from a campaign organized by the local community, which aims to attract suggestions for programs across the nation and put them into practice in grassroots women's homes, one organizer revealed.
Also, the organizer added that grassroots women's federations put an emphasis on the certain aspects of welfare projects, such as its innovation, possibilities, and potential outcomes in actual life.
The Innovative Project of "Three and Half Children's Fun Time"
A project called "Three and Half Children's Fun Time" has received widespread praise since 2014 in the city of Weihai.
Its named was associated with children's daily routines, as they often ended their school study at 3:30 in the afternoon whilst their parents were still following a busy schedule at work.
Therefore, the innovative project was organized for youngsters to have a fun time together. With the accompanying volunteers, children can play games with friends, immerse themselves in reading, or enjoy themselves in DIY activities and acquire knowledge in many subjects, for instance, common sense in daily life and tips on protecting the environment.
Moreover, a majority of volunteering tutors are undergraduate students from a local college affiliated to Shandong University, the top higher education institute across the province.
Currently, over 1,500 volunteers contribute their efforts in the program, benefiting around 5,000 youngsters in the city, one organizer of the project reported.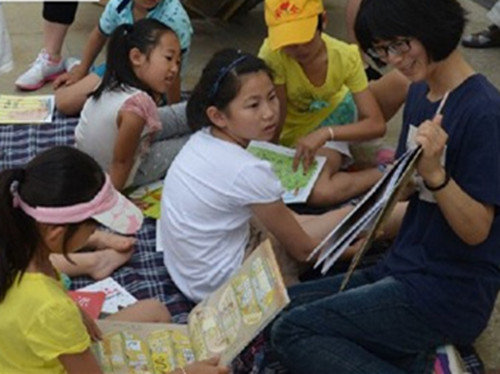 Children participate in a reading session as part of the Little Shell public welfare project in the city of Weihai. [China Women's News]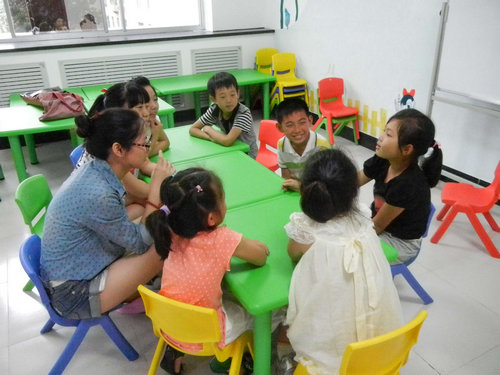 Children enjoy sharing stories at the "Three and Half Children's Fun Time". [wenming.cn]
(Source: China Women's News /Translated and edited by Women of China)