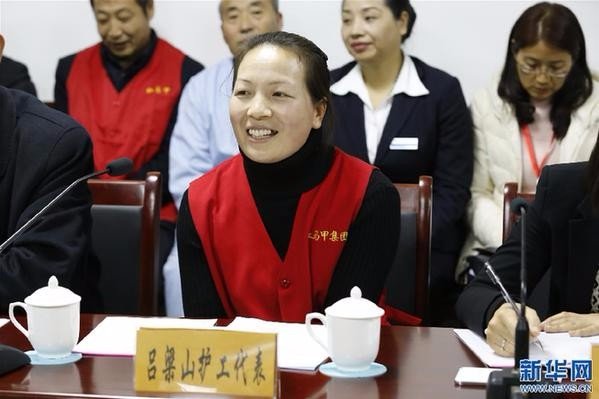 A woman representative from the brand Lüliang Nurses' Aides speaks at a conference. [Xinhua]
The women's federation in the city of Lüliang, north China's Shanxi Province, recently launched a special internet-based social media platform for connecting women both inside and outside the province.
The "online federation" is run via an official account on the popular messaging app WeChat, linking laborers who are working as part of the locally-run brand Lüliang Nurses' Aides.
The brand is a popular distinctive labor initiative which involves over 5,000 women who are employed across the nation.
Reasons to Found the Online Federation
This online initiative was launched based on a case in January that the federation assisted three domestic servants in Beijing to settle their labor disputes.
The traditional organizational work model cannot properly meet the needs of Lüliang nursing staff nationwide today, said Li Xiao'e, president of Lüliang Women's Federation.
"The overwhelming majority of female laborers involved in the project has prompted the federation to play the role of providing services in an innovative way," Liu commented.
"Officials' initial idea was to develop an app. However, it requires huge investment in both time and money, which is something our federation, in an impoverished region, is unable to afford."
"So we opted for an official account on WeChat, as its cost is only tens of thousands of yuan (around U.S.$ 1,500)," she said.
Running of the Online Federation
The organization, named Online Women's Federation for Lüliang Nursing Labors, is comprised of two levels: city and county.
With a total capacity of 100,000, the platform has involved around 10,000 people so far.
Its services feature four categories, 13 sections and 37 columns. They cover a variety of professional skills necessary for nurses. These include knowledge on laws protecting rights and interests, psychological counseling, and business guidance.
Besides learning, users can also communicate with officials or other workers via online chat groups.
"I can improve my nursing skills through many online live teaching videos. The platform also enables me to exchange thoughts regularly with other laborers," said nurse Wang Fengzhen who works in the city of Taiyuan.
"The biggest advantage of the online platform is that the federation can organize and connect with women in a convenient way and those laborers can turn to the federation whenever they encounter difficulties," commented the federation president.
An Introduction to the Project Lüliang Nurses' Aides
Lüliang is one of the 14 most impoverished regions in China.
The impoverished population reached 370,000 in Lüliang by the end of 2016, accounting for 25.6 percent of the total, which is the largest across the province.
Authorities in Lüliang launched the scheme in 2015 which encouraged locals to improve nursing skills and then helped them find work outside the province. This 10,000-people involved project was a key local initiative in shaking off poverty.
According to the outline of the project during the 13th Five-Year Plan Period (2016-2020), the scheme aims to help over 60,000 people find a job in the fields of nursing care and household service.
It plans to organize training sessions among 12,500 people and help another 10,000 to complete their transfer into employment in 2017 alone.
Later, a joint work mechanism involving 13 government departments and mass organizations came into being, combing efforts in further promoting the brand of Lüliang Nurses' Aides.
This mechanism clearly shows procedures in terms of labors' registration on government-selected training sessions, issuing certificates, and arranging health checks.
Statistics show the nursing project has trained 13,511 people, competing for over 5,000 job vacancies so far.
Women occupy 85 percent of the city's external migrant workers. This percentage is up to 95 percent in terms of caring for the elderly and youngsters and household services, reported a federation official.
Such figures have proved the success of the nursing care brand, which has been regarded as a key initiative in women's poverty alleviation in Lüliang, the official added.
Representatives of Lüliang Nurses' Aides gather at a local square before they set off to work in different cities. [Women Voice]
(Source: China Women's News/Translated and edited by Women of China)