Outstanding women share their experiences with the audience. [Women of China]
Officials from a coordinating group held a meeting on the theme of "Following the Party's Leadership, Making Contributions in New Era" on October 26 to share their experiences in constructing Women's Civilization Posts.
A total of 440 people attended the activity including staff liaison from coordinating group organizations; representatives from National Women's Civilization Post organizations; individuals with the title of Women's Contribution Pacesetter, and delegates from different sections of society in Beijing.
Cai Shumin, president and secretary of the Leading Party Group of Beijing Women's Federation (BWF), made a speech at the gathering.

Cai reviewed the achievements made during the past 21 years since the construction activity on Beijing Women's Civilization Post was established. She said its field of coverage has been expanding to the Party and government organizations, enterprises, new economic organizations, new social organizations, and rural economic cooperatives, with emerging comprehensive benefits.
Based on the campaign, Beijing Municipal Government has cultivated a bunch of able women in different fields such as learning, professional skills, services and innovation, and cultivated a group of outstanding Women's Contribution Pacesetters. This has inspired more women to participate in construction work and contributed to a positive social atmosphere.
Since 2010, some 216 outstanding women's industrial organizations were conferred with the title of National Women's Civilization Post, with 95 outstanding women winning the honor of National Women's Contribution Pacesetter.
Over the years, advanced collectives and individuals that have won the honor have come from 16 districts and 33 institutional systems, covering different fields such as science and technology, education, culture, health, politics and law.
Among them, female workers and officials at the grassroots level accounted for over 56 percent.
These advanced groups and individuals have led professional women in Beijing to dedicate themselves to the capital's construction and development, with their influences and actions, whilst contributing wisdom to realize the great rejuvenation of the Chinese nation.
Du Rui, director of the Department for Women's Development of the ACWF, fully affirmed the construction activity of Women's Civilization Post in her speech.
She said coordinating groups at city and district levels should pay more attention in both exploration and innovation to cultivating talents and striving for excellence in posts, under the theme of "Women's Contributions in the New Era".
According to a spokesperson, the local government should lead women to improve their professional morals; shape good images; show the elegant demeanor of the times; and, realize their own values, while cultivating large numbers of female elites in different industries, skills role models and entrepreneurship role models.
As a consequence, those role models can make Women's Civilization Posts an important platform to lead more women to dedicate themselves to economic development; create a strong force for the construction of socialist spiritual civilization in the capital; create a channel connecting women's federations at all levels with women from the general population.
Du also hoped that the activity can better inspire women's enthusiasm to create Women's Civilization Posts with higher quality, wider coverage, and industrial characters, building it into a highlight of the construction of the capital's spiritual civilization.
The activity featured live shows, interviews, and videos on a stage, exploring with different themes such as "Original Aspiration", "Innovation", and "Favourable for People".
Eighteen outstanding representatives from the Women's Civilization Posts introduced their achievements by sharing their videos, revealing positive ways of making contributions to Women's Civilization Posts.
Led by the typical outstanding models, the construction work on women's contribution will progress further with strong cohesion, vitality and wider influence. The activity can also motivate more women to actively engaged in constructing a moderately prosperous society and realizing China's Two Centenary Goals, said a spokesperson.
Participants attend the event. [Women of China]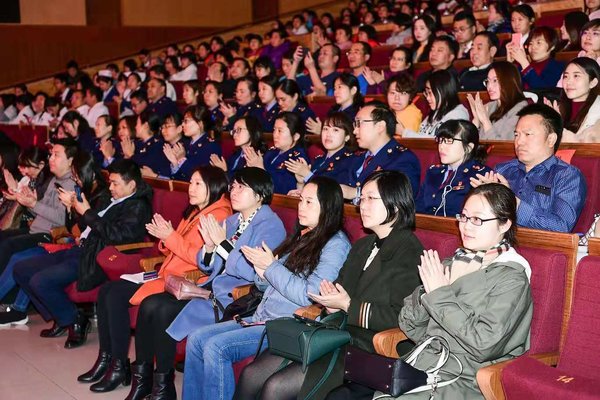 Participants attend the event. [Women of China]