To promote family virtues and uphold "fine family traditions," organizers from Ningxia Hui Autonomous Region in northwest China honored 50 of its "most beautiful families" with certificates in the capital city Yinchuan, on September 1.
Here, the word "beautiful" refers to citizens' outstanding observance of positive, traditional Chinese virtues and social conventions in their personal life, and their adherence to local laws and regulations.
Since March, the local publicity department and women's federation have been carrying out activities to find such households. They were judged on their devotion to national unity, green living, happy marriages or sound family education. Organizers hope that through seeking and encouraging the "most beautiful families" the campaign will highlight harmony among different ethnic groups in the region, and the rich ecological environment.
To attract the widest participation, the women's federation publicized the activity on various platforms including newspapers, TV and social media apps.
Thanks to all the efforts made, over 65,000 local residents from 10,000 families participated in the event. Some 8,200 family pictures, 8,900 family mottos and various moving stories were collected and publicized at Women's Home centers across the region.
After multiple public ballots, 50 families were selected on a local level and two families at a national level. Many of those honored turned out at the ceremony and are expected to further promote their fine family traditions among the people.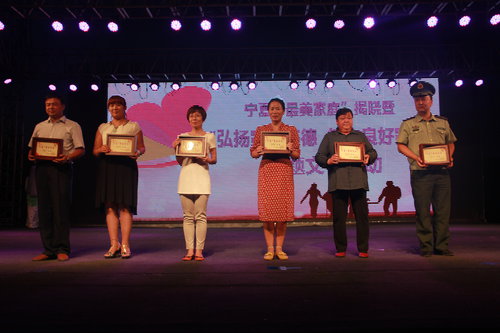 The Ningxia Hui Autonomous Region in northwest China honors 50 of the "most beautiful families" at the local level, as well as two at the national level, in Yinchuan on September 1. [Ningxia Women's Federation/Zhou Huiqin]
Kids recite fine family traditions and mottos at the awards ceremony. [Ningxia Women's Federation/Zhou Huiqin]
(Provided by Ningxia Women's Federation/Zhou Huiqin)