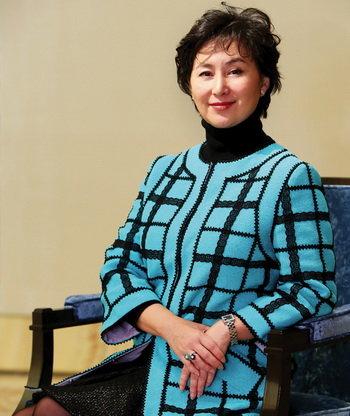 Pansy Ho [fortunechina.com]
Pansy Ho, 54, daughter of Stanley Ho, the legendary "King of Gambling" in Macao, has been playing a key role in her family's business empire.
Pansy did not start her work in the family business until 1995. Her father had never reserved a position for her, nor did he intend to train her as his successor, she claims.
The successful woman began her career as a bank clerk in Hong Kong after finishing an MBA program in the U.S. While she was interested in the work, it turned out that the bank had hired her merely for the resources of her famous father and kept any valuable information from her.
Before long, she resigned and started her own public relations company, in an effort to learn about different people and their various industries.
Despite its relatively small size, the firm stood out in a market of fierce competition, winning customers from top brands like Montblanc and Louis Vuitton.
As Pansy's business flourished, her father was faced with a declining shipping industry and ever-increasing losses. She was hence asked to improve the sector with her experience and skills.
Withstanding pressures from senior managers who refused to obey the young daughter of their boss, Pansy secretly sought cooperation with a Beijing-based travel service provider, and the risky decision proved wise.
The first success since her participation in the family business brought the bold woman praises from company seniors, and, even more importantly, trust from her father. After that, she was entrusted with more business, such as real estate affairs and gambling services management.
Now Pansy leads over 20 companies, one of them being the MGM Macao, a five-star hotel that cost U.S. $1.25 billion to build.
At the same time, the business woman works as a municipal-level political adviser, and secretary-general of the Global Tourism Economy Forum she initiated.
(Source: fortunechina.com/Translated and edited by Women of China)