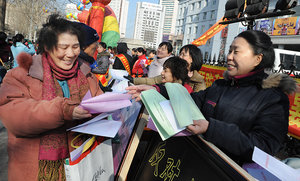 Attendees from the voluntary group distribute legal pamphlets to local residents during an activity session. [Jilin Women's Federation/Han Shuyu]
A group of female professionals in Changchun, capital city of northeast China's Jilin Province, have voluntarily launched a host of events over the past several years to help local underprivileged women and children secure their legal rights and interests
Those involved included judges, lawyers, procurators, police officers, psychologists, social workers and college teachers. Working together, they have promoted the building of a harmonious society with an emphasis upon abiding by and utilizing the law.
Reception Day of Letters and Visits
During the past two years, a group of professional lawyers from the voluntary organization has arranged meetings every Friday to speak with visiting women about their life difficulties, including domestic violence, economic disputes, divorce and parental custody, and help them find relevant solutions.
So far, they have delivered assistance and provided successful advice to 216 women.
Meanwhile, visiting women said that they had benefited much from the group's assistance and learned to use laws and regulations to protect their legal rights and interests in daily life.
Broadcasting Channel
Since last March, local residents, especially women and children, have become accustomed to listening to guest hosts on the Changchun News Broadcasting Station at 8:00 a.m. every Monday, to seek professional assistance for their concerns and difficulties. The hosts are comprised of members of the voluntary group. They receive calls from underprivileged women on the topic of domestic disputes, labor, social security, personal property, physical, psychological health, and give their proposals to them to help solve their problems.
So far, they have dealt 192 cases and helped local women find answers to their difficulties in the comfort of their own home.
Tailored Lectures
Professionals from the voluntary group have also lectured target women and children about how to cope with parental custody issues, family maintenance, wills and succession issues, employment disputes, juvenile psychological health and other topics over last several years by visiting communities and villages across the region.
In the meanwhile, they have worked with local women entrepreneurs to ensure sound growth of their business activities against external turbulence.
(Provided by the Jilin Women's Federation/Han Shuyu)