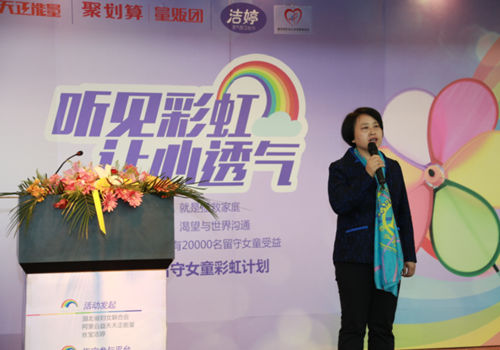 The opening ceremony of the event in aid of left-behind children [womenofchina.cn]
The women's federation of Hubei Province, central China, carried out an activity on March 29, to raise awareness and encourage social efforts in benefit of so-called "left-behind children", especially girls, in rural areas.
In China, "left behind" refers to those children in rural areas whose parents have moved to cities to work. They are often looked after by their grandparents, or other family members, and lack parental control and guidance.
What's more, as more and more migrant workers flock to big cities, the phenomenon of left-behind children is increasing.
According to a report in 2013 published by All-China Women's Federation, the total number of girls left behind in China has reached up to 28 million.
This event was jointly sponsored by the women's federation, the women and children's development foundation in the province, the cosmetics brand C-Bons Group, and organizers of the Ali Public Service with Energy Every Day scheme.
At the opening ceremony, Sun Yupeng, the Chief Marketing Officer of C-Bons Group, shared the stories of volunteers in their visits to left-behind children in rural areas. Also, Bao Qingfen, the vice chairperson of the Women's Federation of Hubei Province, said that left-behind children lack a sense of security and get huge amounts of satisfaction if people show they care about them.
Women's federations across China are consistently dedicated to the aid of left-behind children through public service activities. This year, left-behind girls will be the focus of aid and will receive special concern from public charities. In addition, volunteers will be visiting left-behind children in four provinces around China to accompany them and give courses on physical and physiological health education, especially addressing issues which affect girls as they reach puberty.
Organizers hope that, with more awareness, such children can receive better care, and have a brighter future.
Organizers at the ceremony [womenofchina.cn]
(Provided by Hubei Women's Federation)