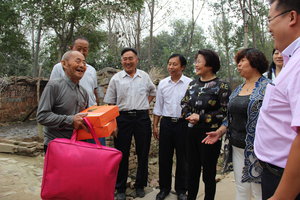 Officials from the women's federation, bureau of education and sports, and Qi County TV station jointly send moon cakes and other gifts to the family of a rural left-behind child in the county. [Henan Women's Federation/Zhang Hongqiu]
Ahead of the traditional Mid-Autumn Festival (September 27), women's federations at county-level across Zhengzhou, capital of central China's Henan Province, sponsored a host of celebrations and charity events for local rural "left-behind" children (those whose parents have left them alone at home to work in far-off cities) last month.
The women's federation, bureau of education and sports, and TV station in Qi County jointly held an artistic performance to mark the special occasion. Teenage attendees were organized to give songs and dances at the gathering, conveying a deep longing for their parents. On their departure, organizers of the event sent moon cakes, bed quilts and other life necessities to young participants there.
Meanwhile, officials from the People's Political Consultative Conference, the Department of Organization, the local women's federation, and the Bureau of Education and Sports, along with 30 volunteers in Weishi County, brought with them school bags, moon cakes, milk and fruits to children at Gangli Elementary School. Teenage beneficiaries gave recitals for visiting guests, showcasing their thanks to them for their visit.
Furthermore, with support from local cake producers, the women's federation in the demonstrative district of urban-rural integration organized a group of charity-minded women to teach left-behind children from several villages at Xinghuaying Township about how to produce moon cakes and also taught them about relevant traditional culture.
Meanwhile, other counties in Zhengzhou also held similar events to help local target children celebrate the festival.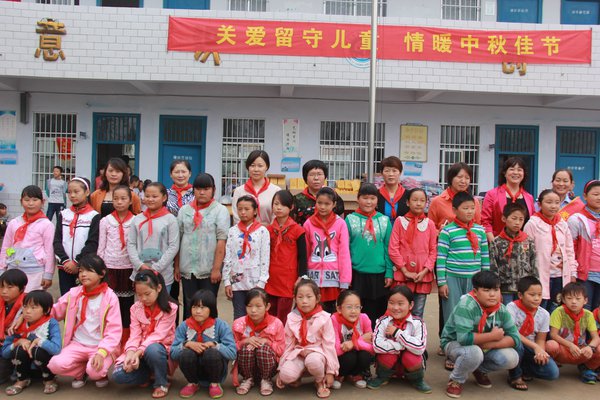 Officials from the People's Political Consultative Conference, the Department of Organization, women's federation, and the Bureau of Education and Sports in Weishi County pose for a group photo with rural left-behind children at Gangli Elementary School during a visit. [Henan Women's Federation/Zhang Hongqiu]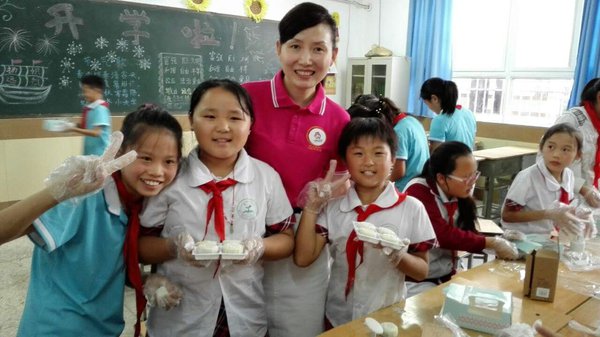 Local rural left-behind children from the demonstrative district of urban-rural integration in Zhengzhou show their handmade moon cakes, with support from volunteers organized by the local women's federation. [Henan Women's Federation/Zhang Hongqiu]
(Provided by the Henan Women's Federation)