"Left-behind" children from central China's Henan Province now have a new way to connect with their faraway parents, thanks to a new scheme bringing distant relatives together via a special Internet video link.
"Left-behind" refers to those children in rural parts of the country whose parents have left them to live in far-away cities in search of better employment.
The children affected often have strong feelings of loneliness and understandably miss their absent parents very much.
In their hometown, the youngsters commonly have to look after themselves or stay under the care of other family members.
The scheme is set up by the Henan Fuxing Children's Charity Foundation, who in tandem with multiple local enterprises, have built dozens of "reunion houses," in which a computer enables the children to see and hear their mom or dad thousands of miles away.
Lou Ziyu and Lou Yiming, third and first graders from the province's Tongxu County, had not seen their parents since Spring Festival at the beginning of the year until a recent "reunion" took place in early September thanks to the charity project. At the sight of their mother in east China's Shandong Province appearing on the screen, the kids burst into tears. So did the woman.
Tongxu has witnessed an outflow of over 200,000 laborers from its total of 660,000 residents. Some 60,000 children have been "left-behind" with at least one parent gone, and 10,700 are "left-behind" by both. Most of them are able to spend just several days with their parents each year, tortured by separation the rest of time.
In light of the situation, the "reunion houses" have been built to ensure that each of the "left-behind" children can "reunite" with their parents once a month.
Psychologists have also been assigned to the buildings, to support those children who may have developed socially backward behaviors because of the long-term separation. Moreover, books and sports facilities are provided to enrich the life of the children and expand their horizons.
So far, the "reunion house" project has benefited some 5,000 children in 27 rural primary schools in Henan.
Staff of the Henan Fuxing Children's Charity Foundation visit local 'left-behind' children. [Henan Women's Federation/Zhang Hongqiu]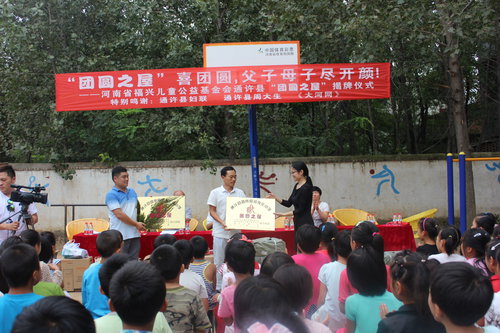 Two 'reunion houses' are inaugurated in Tongxu County, central China's Henan Province. [Henan Women's Federation/Zhang Hongqiu]
Children have a video chat with their parents at the 'reunion house.' [Henan Women's Federation/Zhang Hongqiu]
Children read at the 'reunion house.' [Henan Women's Federation/Zhang Hongqiu]
(Provided by Henan Women's Federation/Zhang Hongqiu)