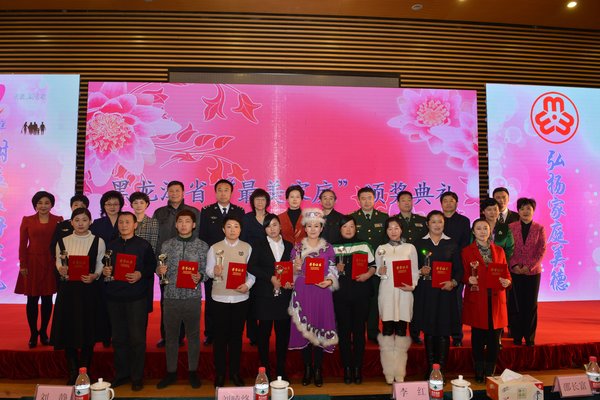 Honored families pose for a group photo with attending officials at the event. [Heilongjiang Women's Federation]
Heilongjiang Women's Federation held an awards ceremony to honor 10 representative families in the campaign "Looking for the Most Beautiful Families" in Harbin, capital city of northeast China's Heilongjiang Province, on November 22.
The event aimed to further implement Chinese President Xi Jinping's relevant instructions about the construction of harmonious families, observe traditional Chinese virtues and core socialist values, and promote the popularity of family education amongst the public.
Those honored at the ceremony included Vice-Chairperson of Baoqing County People's Political Consultative Conference Yu Haihe, who has dedicated himself to better serving the public whilst staying far away from corruption in his life; Peng Yusong, who has adopted and raised six orphans; Yu Jun, who has voluntarily worked in northwest China's Xinjiang Uygur Autonomous Region; Peng Shixue, who has undertaken the succession of the local lantern culture; Jia Xueyan, who has taken care of her mother-in-law for nearly two decades; Liu Lei, a woman of the Hezhe ethnic minority, who has given her husband huge support in his duties as a border police officer; Chen Yuanyuan, who has used her love to support her physically disabled husband for many years; Ji Yongli, who has won public recognition for his consistent fulfillment of promises; Guan Xuejun, who has supported his physically disabled wife for many years; and Zhang Xiu'na, who has been closely engaged in charity affairs for decades.
It is the third consecutive year that Heilongjiang Women's Federation has organized the campaign, which draws the attendance of more than eight million families across the entire province. Heilongjiang Women's Federation has utilized multiple means of new media to further publish the stories of model families and promote the popularity of the campaign in recent years. Over 50,000 contestant families have been identified as model families by women's federations at various levels during the same period.
Chinese Vice-President Li Yuanchao, Vice-President and First Member of the Secretariat of the All-China Women's Federation (ACWF) Song Xiuyan, and senior provincial officials in the northeastern province have highly praised Heilongjiang Women's Federation for its achievements and practices in the campaign during their separate inspection tours.
Attendees at the awards ceremony [Heilongjiang Women's Federation]
(Provided by Heilongjiang Women's Federation)
Please understand that womenofchina.cn,a non-profit, information-communication website, cannot reach every writer before using articles and images. For copyright issues, please contact us by emailing: website@womenofchina.cn. The articles published and opinions expressed on this website represent the opinions of writers and are not necessarily shared by womenofchina.cn.