Attendees pose for a group photo at the event. [Guizhou Women's Federation]
A series of events entitled Holding Dialogues on Embroidery and Making a Fortune Through Hard Work took place in Guiyang, capital city of southwest China's Guizhou Province, on September 27.
The events were jointly organized by the Development Department of the All-China Women's Federation (ACWF), Guizhou Women's Federation, the Ethnic and Religious Affairs Commission of Guizhou, the All-China Women's Hand-knitting Association and Guizhou Women's Hand-knitting Association.
The series of events, which included a contest of embroidery skills amongst female practitioners, an embroidery forum, an awards ceremony and exhibition of embroidery works produced by top performers, aimed to further increase local women's embroidery skills, help more impoverished women increase their incomes and improve their personal lives via engagement in the embroidery industry, and promote joint development between the industry and women's careers.
The contest drew the attendance of 130 female practitioners from several ethnic minorities from across the entire region who demonstrated their talents in embroidery. In the end, the top performers were presented with separate awards in accordance with their shows and marks from the judges, who were all invited professionals.
During the forum, attendees held dialogues over how to further the development of the embroidery industry and increase the public's awareness of embroidery, as well as their engagement.
In addition, organizers displayed 60 pieces of traditional clothes produced by female practitioners of Miao, Buyi, Dong, Tujia and other ethnic minorities. These exhibited clothes fully demonstrated local ethnic women's talents in embroidery and their efforts to get rid of poverty, and provided the public with a channel to learn more about the southwestern province.
A campaign to help local impoverished women increase their income and improve their lives via engagement in embroidery was officially launched by Guizhou Women's Federation in July 2013. So far, the province has established more than 1,000 women-centered embroidery cooperative workshops, whose annual revenues total one million yuan (U.S.$ 150,037.5) and which create 500,000 employment opportunities for local women.
Those present at the series of events were Yang Liu, secretary of the Secretariat of the ACWF; Liu Xiaokai, member of the Standing Committee and director of the United Front Work Department of the Guizhou Provincial Committee of the Communist Party of China (CPC); Yang Ling, president of Guizhou Women's Federation; Cui Weiyan, director of the Development Department of the ACWF; invited professionals and representatives of local embroidery practitioners.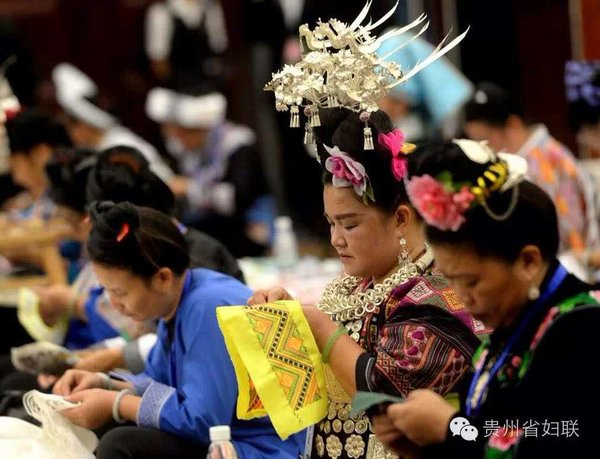 Female practitioners produce embroidery works at the event. [Guizhou Women's Federation]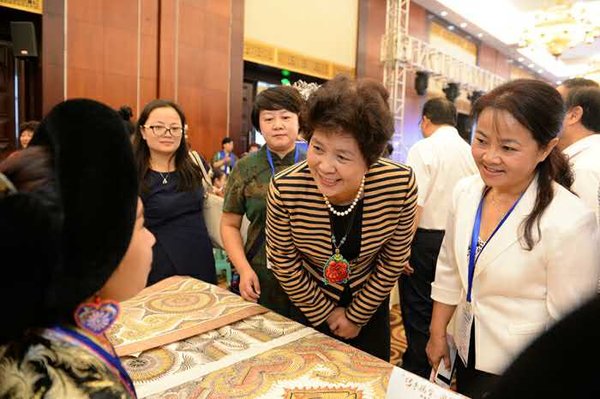 Yang Liu (L2), member of the Secretariat of the All-China Women's Federation (ACWF), interacts with participants at the event. [Guizhou Women's Federation]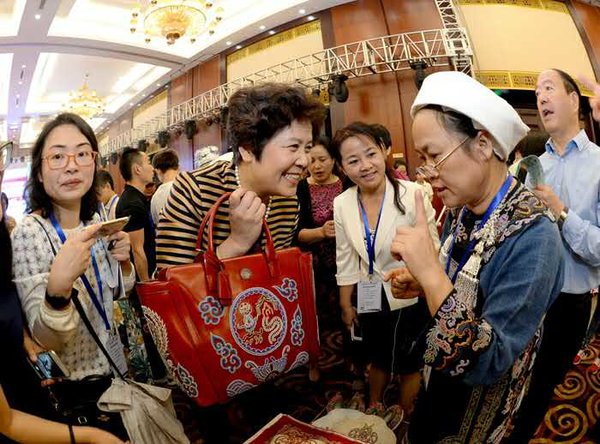 Yang Liu (L2), member of the Secretariat of the All-China Women's Federation (ACWF), interacts with participants at the event. [Guizhou Women's Federation]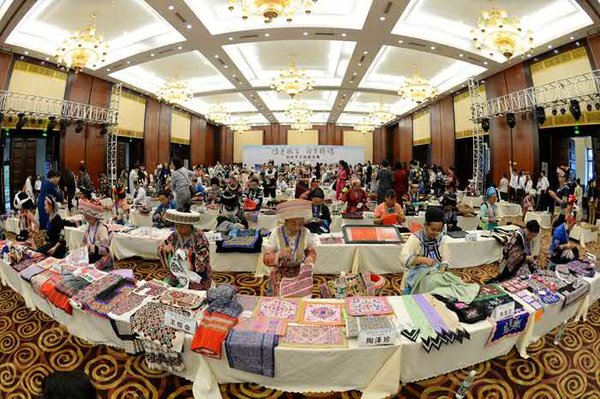 Female practitioners produce embroidery works at the event. [Guizhou Women's Federation]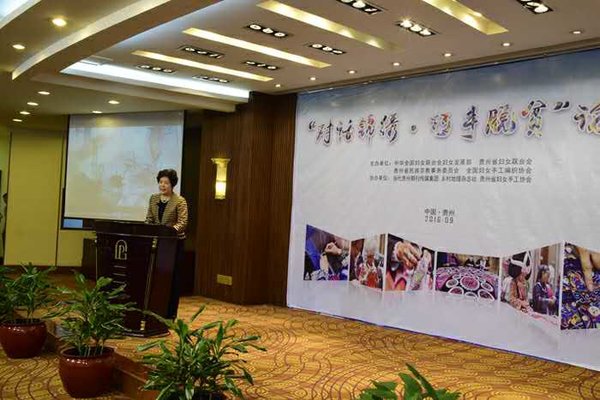 Yang Liu, member of the Secretariat of the All-China Women's Federation (ACWF), gives a speech at the event. [Guizhou Women's Federation]
(Provided by Guizhou Women's Federation)