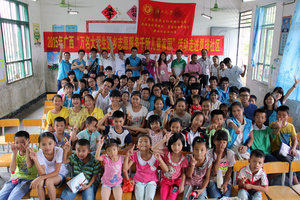 Attendees pose for a group photo at the event. [Guangxi Women's Federation/Wang Fuxuan]
A group of college students from Guangxi University, China Agricultural University, East China University of Political Science and Law, and Guangxi Normal University organized their summer break to spend time with rural "left-behind" children (those whose parents have left them at their hometowns to find work in far-off cities) and held multiple events to enrich their lives during the ongoing vacation at the Tanpai Community of Baiwei Township in Shanglin County, south China's Guangxi Zhuang Autonomous Region, on July 20-25.
The event was launched by Huang Zhenyi, an official sent by Guangxi Women's Federation to assist local residents in the improvement of their social and economic affairs. The scheme was supported by the Guangxi Women's Federation and the Guangxi Working Committee on Universities and College's Affairs.
During the 5-day event, attending undergraduates lectured teenagers about traditional Chinese poetry, photography, the production of handmade items and safety education, and held leisure activities to increase their enthusiasm for academic study.
For their part, local left-behind children said that their attendance at the event had helped them to further expand their horizons and build confidence and perseverance in the face of their daily difficulties and encouraged their pursuit of a personal dream.
(Provided by the Guangxi Women's Federation/Wang Fuxuan)
Please understand that womenofchina.cn,a non-profit, information-communication website, cannot reach every writer before using articles and images. For copyright issues, please contact us by emailing: website@womenofchina.cn. The articles published and opinions expressed on this website represent the opinions of writers and are not necessarily shared by womenofchina.cn.