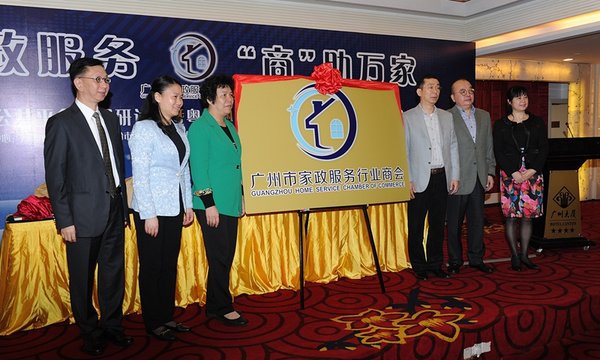 Attending officials from local government departments pose for a group photo at the ceremony. [Guangdong Women's Federation]
A ceremony was held in Guangzhou, capital city of south China's Guangdong Province, on January 10 to celebrate the official founding of the Guangzhou Home Service Chamber of Commerce.
The newly founded Chamber of Commerce received huge support from Guangzhou Bureau of Civil Affairs, Guangzhou Women's Federation, Guangzhou Administration of Social Organizations, and local agencies of home service during its preparation stage.
It was officially registered at local government departments on December 14, 2016.
"The chamber will make a better utilization of ties with its counterparts in south China's Hong Kong and Macao, and southeast Asian countries, learn from their advanced experience in management, and emphasize the concepts of 'family' and 'commerce' in its future work, with the aim of further promoting the development of local housekeeping services," said Li Lirong, president of the chamber, at the ceremony.
In addition, recent years have seen multiple efforts made by local government departments in the promotion of the growth of local housekeeping industries. For instance, Guangzhou Women's Federation provided great support to local housekeeping agencies in their efforts to build the city's home service association earlier in 2004. Moreover, a total of 18 government departments in Guangzhou jointly opened a public platform in relation to housekeeping services on March 8, 2016, with the aim of providing needy people with assistance in home services, domestic tutors, preschool education, public charity and dating & marriage services.
Organizers present certificates to the representatives of local housekeeping service agencies at the ceremony. [Guangdong Women's Federation]
(Provided by Guangdong Women's Federation)
Please understand that womenofchina.cn,a non-profit, information-communication website, cannot reach every writer before using articles and images. For copyright issues, please contact us by emailing: website@womenofchina.cn. The articles published and opinions expressed on this website represent the opinions of writers and are not necessarily shared by womenofchina.cn.