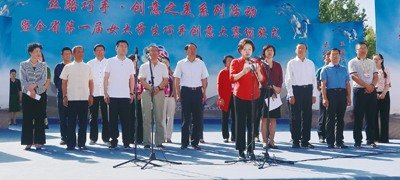 Officials attend the opening ceremony of the Silk Road Women's Handicrafts Activity. [China Women's News]
National craft experts recently gathered in northwest China's Gansu Province to display their innovative weaving art and handmade products, China Women's News reports.
In the town of Yueyaquan, near Dunhuang City, attendees at the Silk Road Women's Handicrafts Activity exchanged views and promoted business cooperation.
The activity was jointly organized by Gansu Women's Federation, the Provincial Education Department and the Provincial Committee for the Wellbeing of the Youth.
The activity was a fringe event of the 2nd Silk Road International Cultural Expo which opened on September 20. Organizers also held the 1st Gansu Female Graduates' Handicrafts Contest to promote cooperation between enterprises and colleges across the province.
As a significant port along the route of the ancient Silk and Road, Gansu is famous for its regional distinctive arts of various kinds which reflect the lives of people from different ethnicities, said an official.
In recent years, the province has acted in accordance with the nation's Mass Entrepreneurship and Innovation Act to carry out handicrafts initiatives, aimed at shaking off poverty and promoting employment and startups among women.
Handicrafts became a key issue of poverty relief due to its mass relevance and extensive cultural influence, along with its ability to boost flexible employment at the grassroots level.
In particular, Gansu Women's Federation carried out a series of initiatives in relation to handmade products including founding an association, registering a trademark, and supporting more than 330 enterprises of various ownerships.
Meanwhile, the organization established 100 pilot sites and fostered 3,000 craftswomen, creating an overall marketing scheme in terms of associations, pilot bases, dealers and female laborers.
The provincial-level federation also took advantage of resources from Gansu Association of Female Entrepreneurs to promote women's handicrafts on multiple platforms such as the 1st China Women's Handicrafts Exposition in 2015 and the annual Lanzhou Investment and Trade Fair.
Remarks from Meng Xiaosi
The Silk Road International Cultural Expo is a high-level forum for cultural exchanges on the theme of the Belt and Road initiative, said Meng Xiaosi, president of China Women's Development Foundation and former vice-president of the All-China Women's Federation.
This activity will contribute to cultural exchanges and connections among different countries, providing opportunities for leading development in the women's handicrafts industry.
The provincial committee and government, which always attach great importance to women-related work, have provided trainings as part of vocational skills improvement projects for the benefit of residents.
The Provincial Department of Finance has invested 30 million yuan (U.S.$ 4.5 million) in supporting women's handicrafts industry.
Women's federations carried out multiple poverty-relief initiatives to help nearly 200,000 women from disadvantaged families increase incomes through the project.
Remarks from Zhou Lining
This activity has combined extensive social resources to build a platform, through which female graduates can make use of their talent and innovation in relevance to handicrafts, said Zhou Lining, president and secretary of the Party leadership group of Gansu Women's Federation.
The province will continue strengthening cooperative efforts across regions and departments to promote branded handicrafts in terms of training, innovation, research, production and marketing sales.
This initiative will surely inspire more women to join the industry, increasing their wealth and contributing efforts in realizing "Chinese Dream of national rejuvenation," said the spokesperson.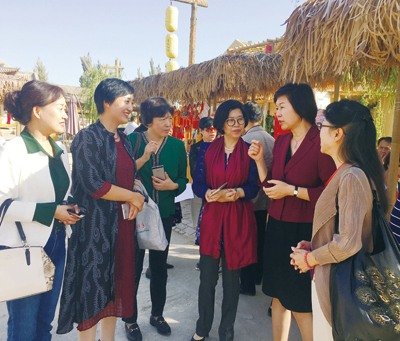 Zhou Lining (R2) discusses the handicrafts industry with guests. [China Women's News]
Craft experts make paper-cuttings during the Silk Road International Cultural Expo. [China Women's News]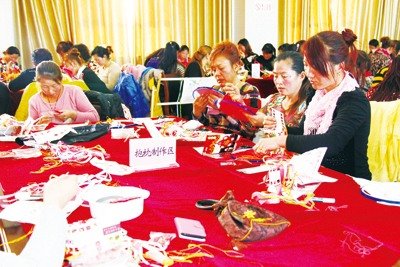 Women learn paper-cutting skills at a training session in the county of Gaotai, Zhangye City in Gansu. [China Women's News]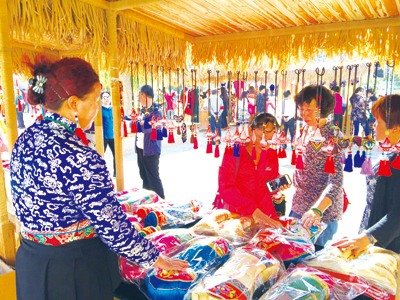 A vendor selling handicrafts attracts visitors in Yueyaquan Town. [China Women's News]
Visitors get an understanding of handmade products in Baiyin City. [China Women's News]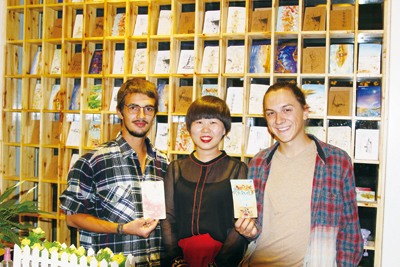 Yang Yang (C) poses with two foreign visitors who are interested in her products featuring cultural designs local to Dunhuang. [China Women's News]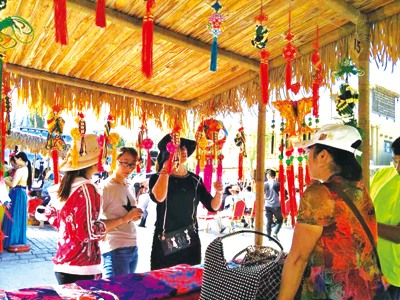 Visitors at a vender's stall [China Women's News]
Attendees sign deals during the activity. [China Women's News]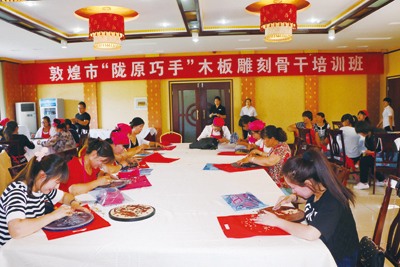 Women learn wood engraving during a training session in Dunhuang City. [China Women's News]
Du Gaju from the Tibetan ethnicity makes an embroidery handicraft. [China Women's News]
(Source: China Women's News/Translated and edited by Women of China)