Lin Yizhi (L1) gives a musical show by playing stones to visitors earlier this year. [China Women's News]
Beigang, a coastal village in southeast China's Fujian Province, has been visited by a large number of tourists this summer after it was renovated by a group of young people from neighboring Taiwan Province.
Lin Yizhen, along with several young painters, ceramic experts and photographers from Taiwan, arrived at Beigang in 2015. They integrated cultural elements and management experience from Taiwan into their renovation of the small village by opening cluster of coffee houses, non-menu restaurants and arranging tourism-oriented homestays.
Not long ago, Lin was elected as part-time vice-president of Beigang Village Women's Federation in recognition of her contributions and sacrifices to the village's economic and social development in the past two years. The young woman pledged that she would take a firm grasp of opportunities and work hard to give the village a brighter future.
In fact, the story of Lin echoes that hundreds of women from Taiwan have been involved with the promotion of economic and social growth in Fujian in recent years.
According to figures from Fujian Women's Federation, a total of 26 women from Taiwan have been elected as delegates to the executive committees of local women's federations at various levels and 13 of them have taken the post of vice-president in these organizations.
Amongst them, Chen Xiurong, honorary president of Fuzhou Association of Enterprises with Taiwan Investment, was voted as the first part-time vice-president of Fujian Women's Federation from Taiwan at the12th Fujian Women's Congress last year.
The inclusion of outstanding women from Taiwan in local women's federations has further strengthened the federations' ability to serve the public, especially women from all walks of life, evident with the success of their personal endeavors in promoting the growth of economic and social affairs.
For instance, many of them have contributed a lot to the assistance of rural "left-behind" women (those whose husbands have left their hometowns and found better employment in far-off cities) and their children, the construction of harmonious and model families and the popularity of social work amongst locals,.
Moreover, Fujian Women's Federation has set up branches in local professional associations, which are designed to promote economic exchanges and cooperation across the Taiwan Strait, to provide women from both sides with assistance in their employment, strengthen the ties between Fujian and Taiwan, and secure a stable and prosperous future for all involved business persons in the southeastern province.
Song Xiuyan, vice-president and first member of the Secretariat of the All-China Women's Federation (ACWF), gave high praise to Fujian Women's Federation for its efforts in this field during an inspection tour this June.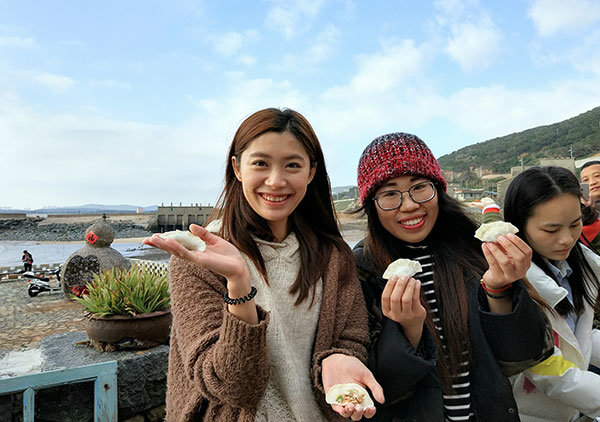 Lin Yizhi (L1) and her teammates jointly produce handmade dumplings during a celebration of the New Year with local residents. [China Women's News]
(Source: China Women's News/Translated and edited by Women of China)