Officials send festival delicacies to households. [Women of China]
Upon the arrival of China's traditional Dragon Boat Festival, a kind-hearted woman named Cheng Yichun recently sent greetings and gifts to impoverished people in the city of Wuhu, east China's Anhui Province.
Cheng, who serves as director of the city's Tianmenshan Health Service Center, has won the title of Wuhu March 8th Red-Banner Winner.
Along with deputies to the People's Congress in the city's Jinghu District, Cheng visited 10 local underprivileged households across Qigengdian Community and New Jinghu Community.
During their visit, Cheng and the congress's vice-director Zhu Guangyou chatted with locals and enquired about their current health conditions and living situations.
Officials also delivered some delicacies for this specific holiday to those families.
These included zongzi, a pyramid-shaped dumpling made of glutinous rice wrapped in bamboo or reed leaves; salted duck eggs and green-bean cakes.
In the meantime, Cheng's daughter, who is a medical staff member working at the local Xiangyuan Health Service Station, helped residents carry out basic medical checks, such as assessing their blood pressure and giving instructions on taking pharmaceutical pills.
Officials also paid a visit to an impoverished mother suffering from cancer, while her son was serving in the army.
Many praised Cheng for her kindness in serving women at the grassroots level throughout many years.
Both Cheng and her daughter played an active role in participating in local welfare events, which in turn won Cheng the nomination award as 2016 Advanced People for Assisting the Poor and the Needed in Wuhu.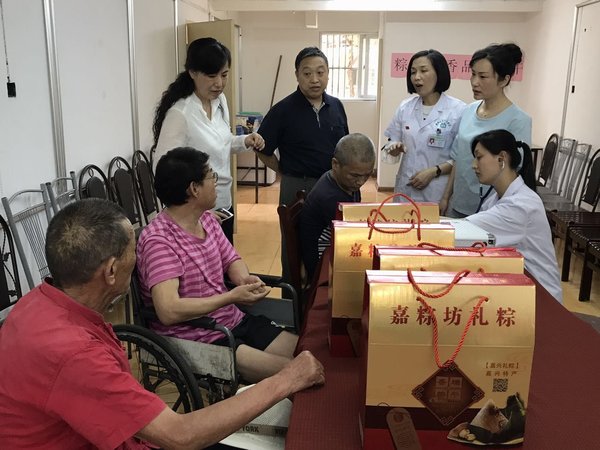 Cheng's daughter helps people check their blood pressure. [Women of China]
(Women of China)