Yuan Qizhong's family and journalists of China Women's News [Women Voice]
Editor's Note: China Women's News and the Publicity Department of the All-China Women's Federation (ACWF) have released a series of reports on the theme "Good News to President Xi – Revisiting Households Inspected by the CPC General Secretary" to greet the upcoming 19th National Congress of the Communist Party of China (CPC).
Journalists traced the footsteps of Xi, who is also general secretary of the CPC Central Committee, and his past visits to households in border areas, mountainous regions, villages and other places across the country.
They made use of inclusive media approaches to display the changes in each family to show how better livelihood and happiness has spread among households.
Today, the fifth episode was released, titled Walking into the Household of Yuan Qizhong in Xinjian Community of Zhoushan in East China's Zhejiang Province.
Xi's Visit to Yuan's Farm Stay on May 25, 2015
"Here is a natural oxygen bar. It is a 'beautiful economy' and has verified that clear waters and green mountains are invaluable assets," said Xi when inspecting farm stays in the region two years ago.
"We must raise the integration level of urban and rural development; put the release and development of rural productive forces and the improvement of farmers' living standards as the basic orientation of policies; and, speed up our efforts to form a new type of relationship between industry and agriculture, and between urban and rural areas – in which industry promotes agriculture, urban areas support rural development, agriculture and industry benefit each other, and there is integrated urban and rural development," he remarked.
Xi also had an informal discussion with villager representatives at Yuan's home.
'We're looking forward to General Secretary's next visit to our farm stay'
Due to Xi's visit, Yuan's farm stay has become a popular tourist destination with booming business. Yuan said he has been looking forward to the General Secretary's next visit from the bottom of his heart.
Although two years have passed, when recalling the scene, Yuan's eldest daughter Yuan Chanjuan was still overwhelmed with excitement.
"I won't forget the experience all my life. What we were running was just a farm stay. It was so unexpected that it brought the General Secretary to us. How lucky and blessed my family are!" she said.
"The president was amiable and the questions he asked were quite detailed, such as how many people were in our family, and our farm stay's annual revenue after tax."
Nowadays, as long as Yuan has time, he will sit on the wooden chair in his courtyard and think of every moment of Xi's heart-to-heart talks with him.
"It really felt like a dream. At that time, the General Secretary said I had the blessing of four capable children who helped me run my farm stay," said Yuan, smiling.
"Actually, he is the one who brought good luck to me. After his coming, my family's business has become more and more prosperous."
Yuan's second daughter Yuan Yanping pointed at a LED screen in their yard and said: "In business hours, we broadcast the news about the president's visit to our family over and over. Many tourists come in admiration, enjoying rural cuisine whilst listening to us sharing the experience. We never feel tired of telling the stories."
Yuan's youngest daughter Yuan Junping interjected: "In this summer vacation, we didn't even take a day's break. We receive at least 20 tables of customers daily."
"We get up at 4 a.m. every day and remain busy until 11 p.m. We must live up to the trust and expectation of the General Secretary!" said Yuan.
In the past two years, the yearly revenue of the family's farm stay has grown 10-fold, from 200,000 yuan (U.S.$ 29,850) to 2 million yuan (U.S.$ 298,507).
"My sisters and brothers have all bought cars. Our living standards have also caught up with those of people living in cities," said Chanjuan.
Vigorously Developing Tourism, Cultural Industry
Surrounded by the mountains in three sides, Xinjian Community is short of land resources and was on the list of the country's poverty-stricken areas. Most young villagers had moved away and made a living in cities.
Yuan's daughters also left the mountains. Chanjuan used to sell Chinese berries in an urban area, earning less than 20,000 yuan (U.S.$ 2,958) a year.
"Later, I heard my hometown was developing farm stays, and that the community environment also changed dramatically. My family then became one of the first to try tomatoes, as well as one of the earliest beneficiaries," she said.
"We have fully understood the meaning of the president's words 'green mountains and clear rivers are as valuable as silver and gold.'"
In 2011, Xinjian Community began to develop tourism industry vigorously.
"In addition to rich natural resources, we have invested 70 million yuan (U.S.$ 10.56 million) in building a beautiful village," said Yu Jinhong, chief of the community Party branch.
"But we cannot rely only on natural resources, so we have also built the South Cave Art Valley, a practice base for students of art schools across the nation; the Railway Square; the Flower Sea Landscape; an art center; and, a cultural hall. This way, we add the soul of culture to our community."
At the entrance of the art center next to Yuan's farm stay, a picture of President Xi and Yuan's family is displayed in a noticeable place.
"This is the best memory of my family," said Chanjuan.
Through online services, Yuan's farm stay not only receives nearby tourists but also those from other parts of the country and the world.
In busy seasons, the family will voluntarily introduce customers to nearby farm stays. "Now people advocate sharing economy. Source of tourists should also be shared. Only in this way will our village's farm stays gain more popularity and will everyone achieve a moderately prosperous life together," added Chanjuan.
Currently, 95 percent of the over 30 farm stays in Xinjian Community were opened by women. Local villagers' average annual income has risen from 10,000 to 30,000 yuan (U.S.$ 1,511 to 4,533).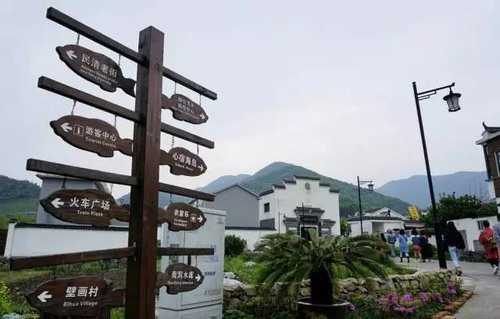 Xinjian Community is now a popular tourist destination. [Women Voice]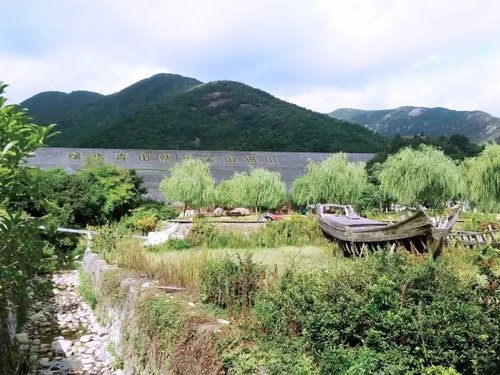 Natural scenery of Xinjian Community [Women Voice]
Yuan's grandson shows a picture of President Xi and the family. [Women Voice]
(Source: Women Voice/Translated and edited by Women of China)