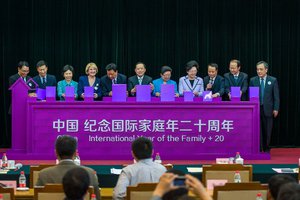 Officials from relavant ministries attend the meeting.[chinapop.gov.cn]
The 2014 International Family Day Commemoration Meeting was held in Beijing on May 15, 2014.
This meeting was jointly held by the National Health and Family Planning Commission, All-China Women's Federation and other relevant ministries. Vice President and Member of the Secretariat of the All-China Women's Federation Zhao Donghua attended the meeting.
Vice Chairperson of the Chinese People's Political Consultative Conference (CPPCC) National Committee Liu Xiaofeng attended the meeting and delivered the key-note speech.
Liu stressed that families are the foundation of society and the core of civilization. He said families play an important role in eradicating poverty, protecting women and children's rights, promoting gender equality and stimulating social development.
Over the past three decades, the income of Chinese families has increased continuously and the health, education and social security of all family members have been upgraded, Liu said.
Liu emphasized that as Chinese society changes rapidly, Chinese families also face many changes including the trend of the nuclear family, multiple-types of non-traditional families and a focus on family life.
The program of Chinese Children's Security Plan and the program of New Family Plan were both launched at the meeting.
(Source: Chinapop.gov.cn)