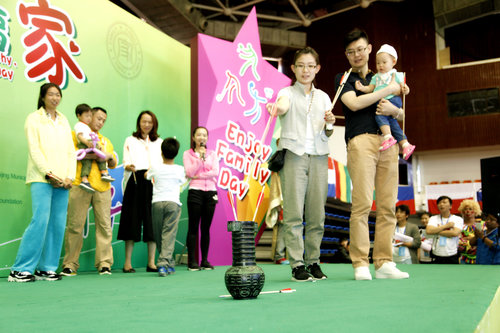 A family takes part in Touhu competition. [Beijing Women's Federation]
A campaign of celebrating the International Day of Families kicked off at Beijing Sport University on May 7.
As a characteristic annual event held by the Beijing Women's Federation each May, the campaign aims at promoting the cultural construction of families, enhancing communications between Chinese and foreign families, and strengthening cultural exchanges between China and the world. This year's event received widespread acknowledgment and support.
A total of 300 people including representatives of the Looking for the Most Beautiful Family campaign, family members of foreign diplomats and Olympic champions participated.
The event was hosted in the form of a family sports meeting to celebrate China's successful bid for the 2022 Winter Olympics.
Competitive events at the gathering included Chuiwan (an early Chinese form of golf), Touhu or Pitch-pot, Cuju (an ancient game similar to football), ice hockey, basketball and table tennis. "We want to present participants with both the beauty of traditional Chinese sports and the vitality of modern sports," an organizer said.
Furthermore, organizers also hosted other activities such as handcraft making, Peking Opera mask painting and children's sand painting, as well as exhibitions of children's art and videos about China.
A total of 300 people participated in the event. Jiao Yang, vice-president and member of the Secretariat of the All-China Women's Federation (ACWF), and Li Zhaoling, deputy-director of the standing committee of the Beijing Municipal People's Congress, also attended the event.
Participants play table tennis at the event. [Beijing Women's Federation]
Children paint Peking Opera masks. [Beijing Women's Federation]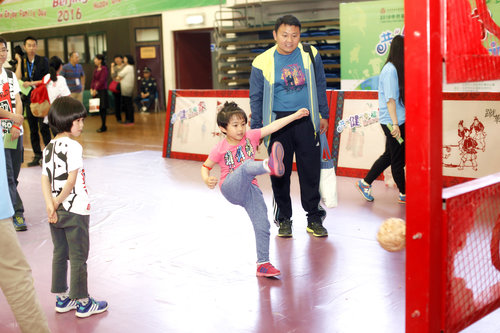 A boy takes part in a Cuju competition. [Beijing Women's Federation]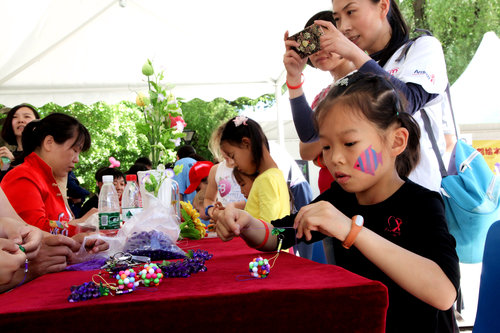 A participant makes handicrafts. [Beijing Women's Federation]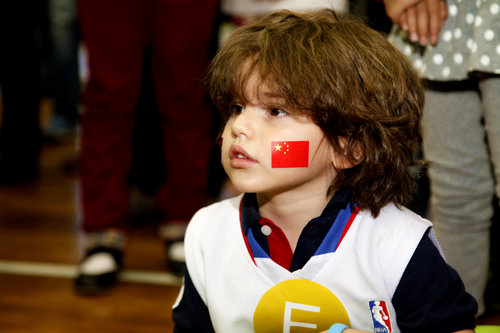 A foreign participant. [Beijing Women's Federation]
(Women of China)