The All-China Women's Federation (ACWF) holds a ceremony on May 15 in Beijing, to honor award-winning families of the Looking for the Most Beautiful Family campaign. [Women of China/Fan Wenjun]
The All-China Women's Federation (ACWF) announced the results of its annual Looking for the Most Beautiful Family campaign, and awarded outstanding families for their inspirational traditions and stories in Beijing on May 15, to coincide with International Day of Families.
A total of 961 families were given the honorary title. Meanwhile, more than 1,000 others were presented with awards for their exemplary behavior in multiple aspects of life, such as contributions to charity, passion for one's job, devotion to the elderly and protecting the environment.
Chinese Vice-President Li Yuanchao attended the ceremony and delivered a speech. He called upon women in the nation to play their unique part in educating the young in a scientific way while upholding fine family traditions. He hoped that Chinese women would, in their pursuit of personal and family happiness, provide great impetus to the modernization drive and help realize "the Chinese dream."
Shen Yueyue, president of the ACWF, presided over the ceremony. She requested that the campaign be carried forward, with a focus on spreading fine family traditions and promoting corruption-free families among government officials. The internet and new media tools should be made use of to better publicize the nationwide drive, she noted.
Song Xiuyan, vice-president and first member of the Secretariat of the ACWF, delivered a work report on the organization, and released plans for its future activities.
The ACWF has been seeking and honoring civilized and inspirational families across the country through various campaigns. In the processes of nominating and selecting, fine virtues and noble spirits have been spread among the public, organizers stated.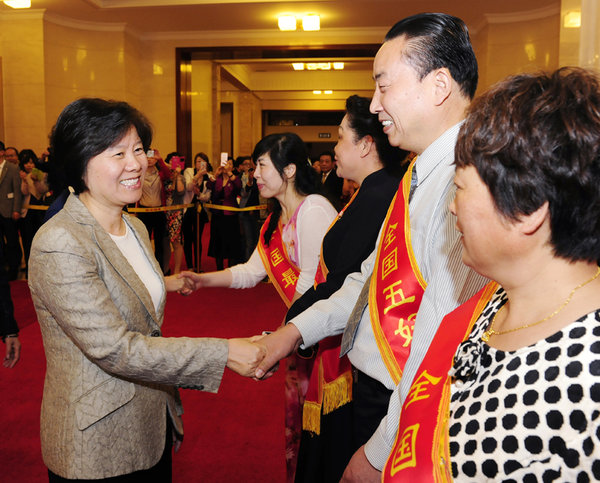 The ACWF President Shen Yueyue (L) greets award winners. [Women of China/Fan Wenjun]
Song Xiuyan (L), vice-president and first member of the Secretariat of the ACWF, shakes hands with a winner. [Women of China/Fan Wenjun]
The winners are presented with honorary certificates. [Women of China/Fan Wenjun]
Representatives of award-winning families [Women of China/Fan Wenjun]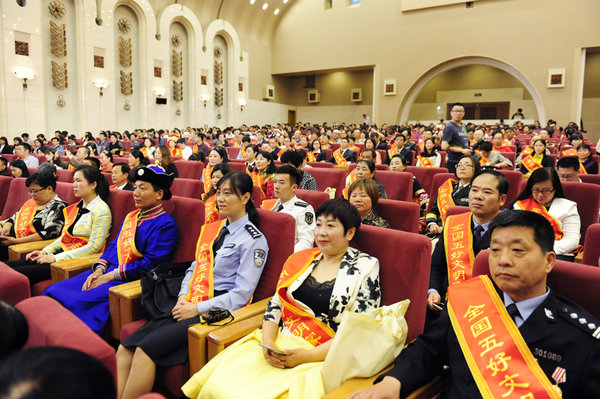 Representatives of award-winning families [Women of China/Fan Wenjun]
(Source: China Women's News/Translated and edited by Women of China)