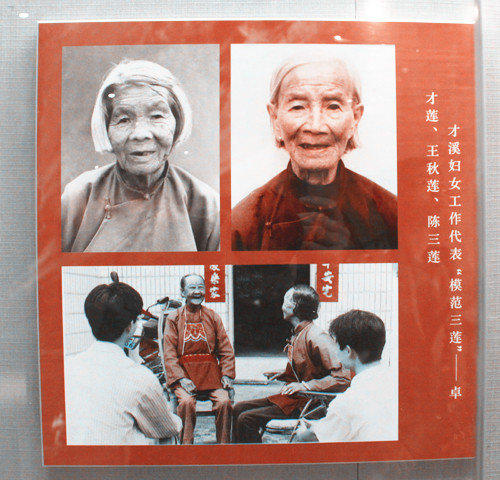 A historical photo shows revolutionary heroines in the 1930s in the town of Caixi in southeast China's Fujian Province. They are Zhuo Cailian (upper left), Chen Sanlian (upper right), and their group photo in an interview with others. [shanghang.gov.cn]
A group of historical women from the town of Caixi in southeast China's Fujian Province won the honored title of Caixi Heroines for their selfless efforts in supporting the Red Army, China's revolutionary forces, in the 1930s.
After the town of Caixi successfully built its revolutionary government in 1929, local women gained the freedom of liberating themselves and earned equal rights with men in land assignment.
Meanwhile, grassroots female villagers could have a voice, for the first time, in local meetings.
Dedicated female representatives were always willing to help local villagers overcome obstacles and resolve disputes in daily life.
One of the role models in this group was Zhuo Cailian who joined the Red Army at the young age of 19. The brave youngster was so competent that she finished the tough task all by herself of passing on messages to a village 60km away with an enemy-occupied region cutting through the middle.
According to some historical recordings, Zhou pulled through a tough road, resulting in her broken and frayed clothes. However, she still achieved good results from the task assigned to her.
Another heroine was Chen Sanlian who backed the revolutionaries together with her husband, who was a frontline solder serving in the Red Army at that time. The couple dedicated themselves whole-heartedly to China's early revolution and managed to lead villagers in achieving their freedom and benefits.
Statistics revealed that 80 percent of villagers joining the army in the region were encouraged by women in Caixi and these heroines stuck to the guidelines from the Communist Party of China (CPC) and served the people, the army and the country throughout their lifetimes.
(Source: China Women's News /Translated and edited by Women of China)