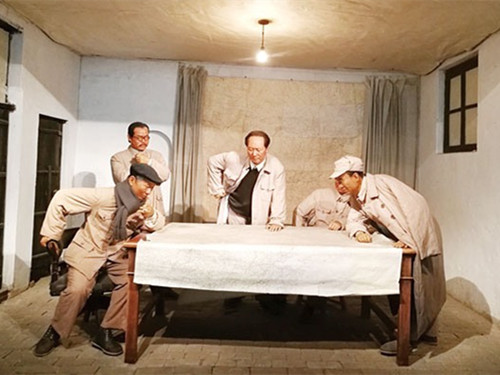 Revolutionary pioneers' wax statues in the museum of Xibaipo, north China's Hebei Province [China Women's News]
Li Hongjie has been a guide at the historical revolutionary site of Xibaipo, north China's Hebei Province, for two years. Recently, she recalled some of her memorable experiences from that time.
Li said she was often deeply moved when she met seniors accompanied by their family, who listen to her explanations on the founding history of the Communist Party of China (CPC), at the educational establishment where she works.
For a period at the end of the 1940s, Xibaipo was effectively the capital of the North China Communist Border Region before the new government became established in Beijing.
Many patriots flock there nowadays to find out more about the past.
Li hoped her introduction might recall the families back again in later years, too. Also, she vowed to continue to inspire youngsters with the thematic display in the museum.
In addition to the many significant meetings and historical events that took place in the renowned revolutionary center, women in Xibaipo were among the pioneers who shifted the history of China with their selfless efforts, said Li.
At the time, the women's tasks included preparing troops' supplies, caring for the wounded, and fighting in the frontline together with male soldiers.
In the county to the east of Xibaipo is a historic site for CPC Central Committee's Women's Movement Committee which was built there in May 1948, added Li.
China's first Marriage Law was drafted locally in a humble house, and the first assembly of women's representatives was also held nearby.
Early female pioneers, such as Cai Chang, Deng Yingchao and Kang Keqing, all dedicated themselves to improving women's conditions in the region, and creating a blueprint for women across the country, even though they went through hardships in difficult times, the guide explained.
Many patriots told Li that they learned a lot during their visits to the revolutionary site, and they often expressed their gratitude as well as giving a salute to the revolutionary pioneers in history.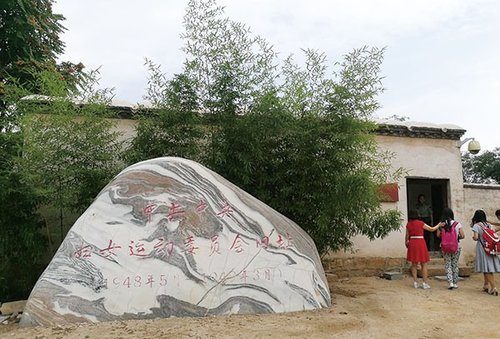 An outside view of the historic site of CPC Central Committee's Women's Movement Committee [China Women's News]
(Source: China Women's News /Translated and edited by Women of China)