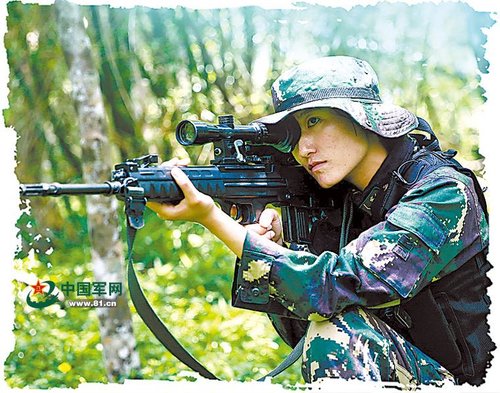 Huang Min takes aim at a target. [People's Liberation Army Daily]
A female soldier from a mainland troop stationed in Hong Kong, has gone from being a novice sniper to an expert marksman over the past few years.
Huang Min, deputy leader of her squad, was the first in her brigade to pass the army's special sniper-class examination.
"You must use your brain if you want your bullets to hit the target," Huang told a reporter.
Huang recalls that when she first practiced shooting, she often laid anchored to the ground, aiming at a bull's-eye for three to four hours at a time.
"The target several hundred meters away was doubled through my sore eyes," Huang said.
Over time, Huang's shooting skills improved but she still found a gap between herself and expert snipers.
Pondering long and deeply, the quick-witted woman came up with an idea – asking her coach to record her shooting on camera.
Watching her target practice video carefully, Huang finally found that her tiny shrugs had changed the route of bullets, causing diversions.

To overcome the small movements, Huang has since put a coin on the silencer, at the far front of the barrel during her training. If her shoulder moves, the coin will fall off.
Huang reduced the size of the coin gradually and finally broke the bottleneck. Her shooting accuracy saw a sharp rise.
In September, 2014, when Huang and her fellow soldiers attended a training mission for special forces in Guangzhou, capital of south China's Guangdong Province, Huang's chosen hiding place was less than five meters away from where an assessment panel walked by.
At such a short distance, even a shell case can be easily detected, let alone a person.
Yet Huang fulfilled her task successfully nonetheless.
How? The sniper stitched fishing net onto her camouflage suit, tied similar-colored strips of clothes to the net, and disguised herself with trees and weeds nearby.
Though in sweltering heat, Huang remained motionless for two hours until she received the order to fire.
Within six seconds, the target 300 meters away was hit down, quite to the astonishment of the examiners.
This March, during the final test for sniper training organized by Huang's brigade, the intelligent woman ranked first place as usual among 55 outstanding soldiers.
(Source: People's Liberation Army Daily/Translated and edited by Women of China)