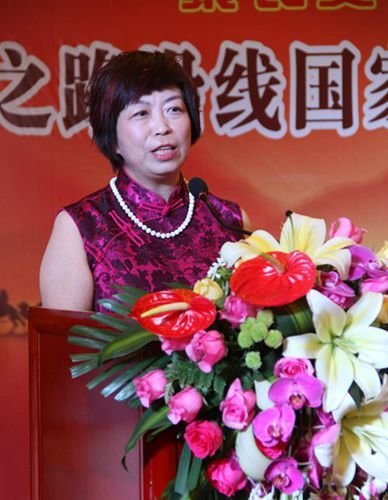 Jin makes a speech during the activity.
Shaanxi Women's Federation (SWF), in Northwest China, and its affiliated Xi'an Women's Federation (XWF) organized an activity on May 23, 2015, to promote exchanges among women in countries along the Silk Road.
Chinese officials including Jing Jianping, president of SWF, Li Jing, deputy mayor of Xi'an, and Li Jun, president of XWF, and 34 visiting foreigners from six countries attended the activity.
Jing and Li made speeches to welcome the attendees.
"The activity is of great importance. It will play an active role in the communication between female entrepreneurs in Shaanxi and women in other countries," Jing said.
She also urged them to contribute to the building of the Silk Road Economic Belt.
"We called on women in countries and regions along the Silk Road to make joint efforts to expand cooperation," said Li.
During the activity, Xi'an Women Entrepreneurs' Association and Turkey China Women's Culture & Friendship Association signed a cooperation agreement to promote exchanges and cooperation in fields like economy and culture. Some attendees delivered speeches on relevant topics.
After the activity, Xi'an government and officials of women's federations presented peasants' paintings from Huxian County, near Xi'an, with local cultural characteristics to the visiting foreigners as gifts.
Artists from Xi'an Performing Arts Group performed Tang Dynasty-style folk music like The Silk Road Sketch and dances like Rainbow-Colored and Feathered Costumes to the attendees.
Jiang presents a painting to a visiting foreigner.