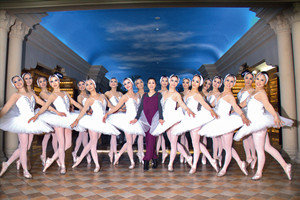 Guan Jinhong [Center], manager of and dance teacher at Beijing Piaowu Art Troupe, in a charity performance [Women of China English Monthly]
The "Chinese Dream" belongs to each Chinese person. As Chinese, we are both participants in and witnesses to the country's pursuit of the "Chinese Dream." The "Chinese Dream" is also the dream of each Chinese woman. Women of China (WOC) has been interviewing Chinese women, from various sectors, and sharing their stories of achieving their ideals. In this edition, WOC interviews Guan Jinhong, manager of and dance teacher at Beijing Piaowu Art Troupe.
Guan founded the art troupe, whose members' average age is above 60, in 2009. Why? She wanted to enrich her life as she continued to age. She had been a dancer and a dance teacher for 40 years. When she retired, in 2009, she didn't want to stay at home all day and live a dull life. Given her deep affection for dancing, she decided to teach elderly women to ballet dance, which is among the most difficult forms of dancing.
"I hoped ballet would help elderly women become elegant and confident. The elderly have a right to choose the lifestyle they like. Ballet is very hard to learn, even for young people, but the training methods are safe and scientific. I believe elderly women can handle it if they want to," says Guan.
As many of the women didn't know how to dance before they joined the troupe, Guan has always encouraged them with words like, "You are the best!" and "You can do it!" She is always patient when she is teaching them the dance movements.
To help the learners improve their basic skills in an interesting way, she choreographed the dance Red Dates in 2010.
In 2011, Red Dates won the troupe second prize at the first Beijing Elderly People's Dancing Competition. In 2012, the dance was selected from among 400 programs, and the troupe performed it during the Spring Festival gala for common citizens organized by the Beijing municipal government. The dancers were excited, as they had not expected to have the opportunity to perform in the National Center for the Performing Arts. They appreciated Guan for helping them live such a wonderful life in their old age. The next year, the troupe performed at the gala again.
The performances made Piaowu famous in Beijing's dance community. In February 2014, a director with Amazing Chinese, a popular talent show produced by CCTV (China Central Television), invited the troupe to perform on the program.
"It was quite a coincidence that I received the invitation one day before my 60th birthday. They asked us to go to Shanghai as soon as possible to record the program, so I selected four of our members in a hurry … We didn't know that we were supposed to perform a part of Swan Lake until we met the production team in Shanghai," says Guan.
Swan Lake has long been one of Guan's favorite dances, as it is so beautiful, and it is a masterpiece of classical ballet. She had taught some of the troupe's members some of the dance, but she did not feel confident that they would be able to perform the routines in public.
"With only three days to prepare, we practiced till midnight every day. The four dancers were even too tired to stand. On the day of the recording, when all of the judges gave us passes to … advance to the next round, the dancers and I hugged each other tight, out of excitement and joy," Guan recalls.
The troupe made it to the show's final round, which was held in the Great Hall of the People in Beijing in April. Twenty-four members of Guan's group performed another part of Swan Lake, and they shocked the audience, again, with their perfect figures and "professional" skills.
Guan was appreciative that Amazing Chinese gave Piaowu the chance to perform on such a large stage, and in so doing allowed her to realize her dream of becoming a "flying swan." The troupe has since been invited to perform on many TV programs.
In addition to teaching dancing, Guan designs and makes the costumes for the troupe's performances. When some dancers can't perform, she also dances as a substitute.
"Sometimes, I feel exhausted, after doing so many things at the same time. But whenever I am with the dancers, I become energetic again. I often tell them that our goal is to look 10 years younger … by practicing ballet. We also keep pace with the times by learning to use blogs, WeChat and software, such as PowerPoint. I think it's worthwhile for me to devote myself to the troupe," says Guan.
In the near future, she plans to choreograph two new dances for the troupe, and to lead the troupe in a special performance within two years.
(Source: Women of China English Monthly March 2015 Issue)