The number of Chinese mainland women accounts for more than half of the top 10 world's richest self-made female billionaires, according to the fourth Hurun Richest Chinese Women List released yesterday in Shanghai.
Fifty-one of the 104 females who entered the Hainan Clearwater Bay 2009 Hurun Rich List made it into the women's list. Their total wealth is 337.6 billion yuan (US$50 billion) and nine businesswomen in the list own more than a one billion yuan fortune.
Zhang Yin [zaozhi.me]
The top three richest women are: founders of Nine Dragons Paper Co. Zhang Yin and family (with the wealth of 33 billion yuan), owners of Biguiyuan Real Estate Group Yang Huiyan and family (31 billion yuan), and chairwoman of Fu Wah International HK Group Chen Lihua (23 billion yuan).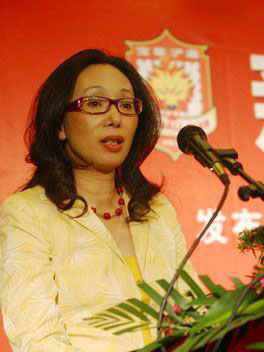 Xiuli Hawken [tom.com]
Among the top 10 wealthiest women, Xiuli Hawken and her family hold the spotlight after their Renhe Commercial Holdings Co. was listed on the Hong Kong Stock Exchange last year.
In addition to those who gained their wealth by starting from scratch, some female entrepreneurs in the list inherited their fortune from parents or share it with their husbands or family.
(Source: chinanews.com.cn / Translated by womenofchina.cn)