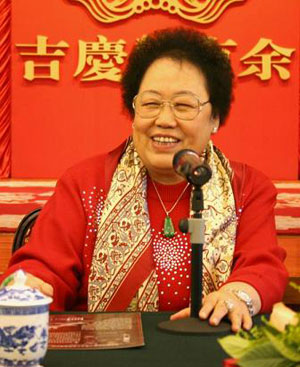 Chan Laiwa, head of Fu Wah International Group (Hong Kong), gestures at a press conference in Beijing in this November, 2005 file photo. [people.com.cn]
Boss or parent? It's difficult to tell when Chan Laiwa sits with farmers on her new high-tech farm or migrant workers at building sites, eating, talking and laughing together.
Inside her company Fu Wah International Group (Hong Kong) the grandmotherly chairwoman with a smile for everyone is called "Boss Mum" for her kindness and affability.
As a leading business figure, she has made the Forbes List of China Rich for the last three years and served on various boards of Chinese philanthropies.
Fu Wah is a private Hong Kong-registered multinational company established in 1988 involved in real estate development, the hotel business, tourism and electronics. The company's key business is in Beijing, where fixed assets exceed 5 billion yuan (US$625 million).
The company is not only like a big family but has been praised by the government for its contributions to society.
"I should be responsible for everybody around me," says Chan, 65, who believes the basic responsibility for an entrepreneur is taking care of staff as well as corporate social responsibility.
As for her own family, Chan is married, with one son, two daughters and grandchildren. After living in Hong Kong, she moved to Beijing and now lives in her Chinese Red Sandalwood Museum.
"Boss Mom" is low key about her contributions, saying, "It is a natural thing to give money to those most in need."
The successful private businesswoman indicates that she does not keep track of how much she spends on philanthropy..
According to the Hurun 2005 China Philanthropy List, Fu Wah donated 130 million yuan (US$16.25 million) for disaster relief in 2005 and 265 million yuan (US$33.13 million) the previous year.
Insiders say besides the public statistics, Chan often personally gives money for rural education, poverty relief, cultural heritage protection as well as disaster relief.
As Chan says, she earns money from society and must pay back. Society "is the right place where the money can play a bigger role than in my savings account," she stresses.
Getting into Agriculture
With investments in real estate, the hotel business, trade and food sectors from Beijing to Southeast Asia and Australia, Chan is turning her eyes to agriculture.
Her first agricultural project high-tech agriculture is in eastern Beijing's Tongzhou Taihe. Construction began in September.
The farm is being developed to support environmentally friendly, high added-value agriculture to help local farmers out of poverty.
"We are eyeing the promising future of the rural region. Its progress will help increase farmers' income and build a harmonious society," says Chan.
During the site investigation period, Chan donated 1 million yuan (US$125,000) to the village government for care for aged villagers and education for children.
"Improved living standards and education will support sustainable and healthy development in villages," says Chan, terming it a cycle of social and economic progress.
Heritage Protection
A descendant of the Manchu imperial family, founders of the Qing Dynasty that ruling China from 1644 to 1911, Chan spent her childhood years in the Summer Palace in Beijing.
Her family's appreciation of traditional Chinese culture had a great influence on Chan, who is devoted to protecting the country's heritage.
During the development of Jinbao Street near Wangfujing Beijing's fashionable shopping street with a history of more than a century Chan was determined to restore a tract of old siheyuan (traditional Beijing courtyard residences) to preserve some of old Beijing.
With total development investment for Jinbao Street already at 4 billion HK dollars (US$509 million), the sophisticated siheyuan renovation caused costs to surge dramatically, but Chan believes the expense was worthwhile. "Some heritage cannot be measured by money, and what we are doing is to keep something for the Chinese nationality and our descendants," she says.
When Chan was growing up, almost all the family furniture was made of zitan, as red sandalwood is called in Chinese, which explains her passion for this rare wood. Zitan is famed for its density, straight grain and rich colour, while China is well-known for its traditional zitan carving.
Due to the scarcity of both the wood and skilled artisans, zitan carving is becoming a vanishing art.
Taking action, Chan personally contributed 200 million yuan (US$25 million) to build the Chinese Red Sandalwood Museum to recreate the traditional Chinese art.
In addition to buying wood internationally, at sources in tropical areas, Chan offers high salaries to attract skilled artisans.
Over the years, she has employed hundreds of craftspeople and built dozens of workshops producing valuable works of art.
To promote zitan internationally and spread Chinese culture, Chan has donated dozens of pieces of the red sandalwood carvings to museums in the United States, Japan, Germany and France.
An International Red Sandalwood Cultural Exchange, with floor-space of 66,000 square metres, is under construction behind the museum.
"I plan to leave the museum and affiliated facilities to the nation. It is a treasure for our society and our nationality," Chan says.