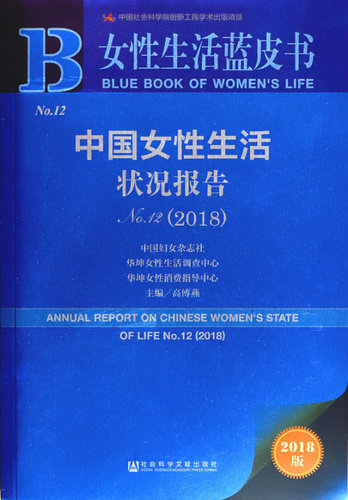 The cover of The Blue Book of Women's Life: Annual Report on Chinese Women's State of Life No. 12 (2018)
Chinese officials released the latest report into female spending habits on June 29 at the 13th Chinese Women Consumption Forum in Beijing, highlighting women's increasing role in personal and domestic consumption.
The Blue Book of Women's Life — Annual Report on Chinese Women's State of Life 2018 was jointly produced by China Family Culture Research Society (CFCRS); China Consumers Association (CCA); Women of China magazine; Huakun Women's Consumption Guidance Center (HWCGC); and, Huakun Women's Life Survey Center (HWLSC).
This year the publication focused on the theme of "Facilitating the upgrade of consumption and building a bright life".
Hong Tianhui, chairperson of the CFCRS and former vice-president and member of the Secretariat of the All-China Women's Federation (ACWF), presided over the event.
Meanwhile, Gu Xiulian, vice-chairperson of the Standing Committee of the 10th National People's Congress and director of the China National Committee for the Wellbeing of the Youth, delivered a speech.
Gu spoke highly of the forum and said it has already become a significant platform to study women's consumption. The data gathered first-hand from the grassroots level and the subsequent research findings provide valuable references for government authorities, scholars and enterprises to investigate women's consumption and can help enterprises offer women and their families with high-quality products and services.
In particular, she highlighted three related issues.
First, over the past 40 years of reform and opening up, especially since the 18th National Congress of the Communist Party of China was held in 2012, China's consumer market has maintained a steady, relatively rapid growth, its scale has steadily expanded, the consumption structure has been optimized, and its quality and benefits have continued to increase.
Last year, China's total retail sales for social consumer goods reached 36.6 trillion yuan, up 10.2 percent from 2016. The country maintained double-digit growth for the 14th consecutive year, and the consumer market ranked second in the world.
Online retail sales reached 7.2 trillion yuan, an increase of 32.2 percent over the previous year. The online retail market continues to rank first in the world. The fundamental role of consumption in economic development has been significantly enhanced.
Second, with the substantial improvement of people's living standards, consumer demand has undergone profound changes, and the trends of consumption being upgraded is significant.
Nowadays, people pay more attention to the quality of goods and services; brand and reputation; consumer experience and spiritual pleasure; harmonious coexistence between humans and nature; civilized progress and environmental protection; and, fairness, justice and the rule of law.
Third, Gu noted that women play a important role in national consumption. As the income of individuals and families continues to increase, the social status and economic status of women has increased gradually, too, and their rights to control family consumption has also been expanding.
It is necessary to understand the consumption situation, consumer demand and consumption trends of women and families as well as their demands so as to guide the healthy development of consumption accordingly, improve consumption quality and facilitate its transformation and upgrading.
In addition, Gu highlighted three problems during the process of transformation and upgrading.
First, officials should vigorously cultivate and develop the non-material consumption market to further meet the new needs of women and families for spiritual and cultural life.
Second, they should pay attention to consumer experience, improve the quality of products and services and expand the mid and high-end consumer market.
Third, officials should strengthen publicity and education on the new concepts of scientific, healthy and sustainable consumption.
Zhu Jianqiao, deputy director and secretary general of the CCA, also gave a speech at the event.
Zhu proposed that people's pursuit of high-quality consumption is an important part of the need for a better life. The theme of the forum coincides with CCA's theme for 2018, "high-quality consumption, beautiful life".
Both organizations advocate green, shared, civilized and rational consumption while abandoning luxury, waste and predatory consumption.
Zhu also promised that CCA will earnestly fulfill the responsibilities and requirements imposed by the law on protecting consumers' rights and interests; make full use of its leading role in consumers' rights protection; and, create a more convenient and safe consumer environment.
Findings of Survey on Chinese Urban Women, Families' Consumption
At the gathering, Gao Boyan, editor-in-chief of Women of China magazine, released the results of the 2017 survey on Chinese urban women and families' consumption.
The report summarized Chinese urban women's consumption situations and expectations in 2017 into six main trends.
First, the demand for spiritual life has increased significantly and cultural and entertainment consumption has diversified.
Second, the practice of traveling on holiday has become normalized, promotes high-quality and diverse forms of travel.
Third, online consumption is popular in women's life.
Fourth, the proportion of non-material consumption increased while the material consumption is shifting to a high-quality and original one.
Fifth, sustainable consumption includes practicing strict budgeting and living a green, low-carbon lifestyle has received recognition.
Sixth, families' consumption mostly focuses on children, tourism and real estate purchases and consumer demand remains strong.
Findings of Survey on Chinese Urban Women's Quality of Life
Liang Min, president of the HWLSC, released the Report of the 13th Survey on Chinese Urban Women's Quality of Life.
According to the findings, there are nine major characteristics for women in the new era.
First, the prevalence of the Internet has helped women start their own businesses.
Second, a positive working environment and good interpersonal relationships have become the top requirement of an ideal job.
Third, fitness has become a new norm for a healthy lifestyle.
Fourth, over 90 percent women said they experience numerous pressures and need emotional management every day.
Fifth, women pay attention to their families and highly value their marriage.
Sixth, positive family traditions are the spiritual core of a high-quality life.
Seventh, women are taking part in more leisure activities, showing their new needs to nurture their spiritual life.
Eighth, they are keen on charitable activities and spread positive energy to the public.
Last, women are building and enjoying better lives with multiple dimensions and higher quality.
At the end of the event, Meng Man, a professor from the School of History and Culture at Beijing-based Minzu University of China, gave a detailed interpretation of data from the two reports.
Gu Xiulian, vice-chairperson of the Standing Committee of the 10th National People's Congress and director of the China National Committee for the Wellbeing of the Youth, delivers a speech at the event. [Women of China/Zhang Ping]
Zhu Jianqiao, deputy director and secretary general of China Consumers Association, gives a speech at the event. [Women of China/Zhang Ping]
Gao Boyan, editor-in-chief of Women of China, releases the report on urban women's consumption habits at the gathering. [Women of China/Zhang Ping]
Liang Min, president of the Huakun Women's Life Survey Center, releases the report on urban women's quality of life at the gathering. [Women of China/Zhang Ping]
Meng Man, a professor from the School of History and Culture at Beijing-based Minzu University of China, delivers a speech at the event. [Women of China/Zhang Ping]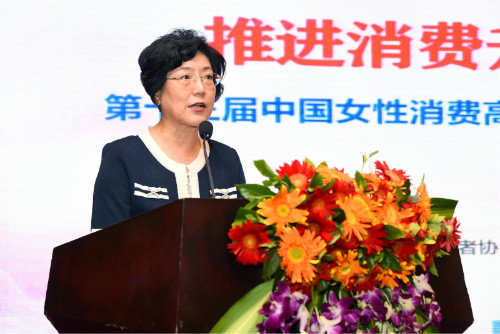 Hong Tianhui, chairperson of China Family Culture Research Society, presides over the forum. [Women of China/Zhang Ping]
Attendees at the forum [Women of China/Zhang Ping]