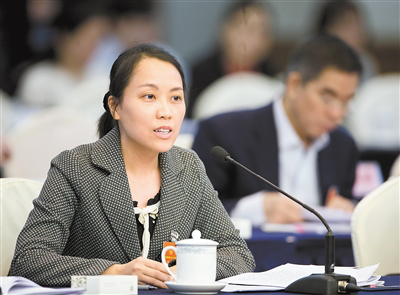 Chen Haiyi [China Youth Daily]
Chen Haiyi, president of the Juvenile Family Trial Division at Guangzhou Intermediate People's Court in south China's Guangdong province, has helped numerous offenders begin a new life.
Chen is also a deputy to the 13th National People's Congress, and holder of the title Guangdong Role Model for 2017.
She recently made two proposals at the annual "Two Sessions" meetings in Beijing.
Chen has been engaged in juvenile trial for 21 years, and has handled over 4,000 cases without any appeals or complaints.
None of the teenagers she has helped committed crimes again. Among them, over 300 teenagers have been admitted to high schools and vocational colleges and over 30 were admitted to universities.
"Sentencing must be based on facts, and the investigation of evidence must be done to the best of all our abilities," Chen said.
She believed that a 1 percent degree of error is 100 percent unfair to the defendant, and such an injustice will sow distrust in the hearts of juvenile defendants.
In juvenile trials, Chen pays great attention to repairing broken social relationships. She believes that if the destroyed social relationship is not repaired in time, the victims' misunderstandings will still exist within an ever deeper grievance.
The timely restoration of broken social relationships can make minor defendants realize their responsibilities for the victims, she said.
Chen is affectionately referred to as "Judge Mama" by many juvenile offenders. She believes that judgments without compassion or expectation are meaningless, so she has always insisted on psychological counseling for children who are guilty of wrongdoings, and treated them patiently.
At the annual legislative meeting, Chen suggested to build a unified teenager database platform throughout the country, which would include distributed data on juvenile offenders', street children and "left-behind" children.
The data platform should be shared among relevant departments in the protection of the rights and interests of minors, and relevant early warning systems should be established.
Second, sexual assaults on minors should be paid more attention to urgently. In response to the problem of sexual assault, she summarized six countermeasures.
She said officials should raise the legal awareness of minors and their guardians; make schools, village committees, hospitals and other departments liable to report such crimes by focusing on underage abortions in local hospitals; improve the supervision of teaching staff; and, make civil affairs department establish effective rescue mechanisms.
She said officials should form a system of social reaction to prevent minors from sexual assault. She also called for administrative departments to issue relevant regulations to form a comprehensive mechanism for preventing sexual assault on minors.
Chen says she is willing to spend more time and energy in dealing with juvenile cases. She also hopes that more people can be tolerant and caring enough to welcome the juvenile offenders back to homes, schools and into society.
Chen Haiyi conducts psychological counseling for a juvenile defendant . [China Youth Daily]
Chen Haiyi goes to the Juvenile Offenders Rehabilitation Center of Guangdong Province to concentrate on helping teenage offenders. [China Youth Daily]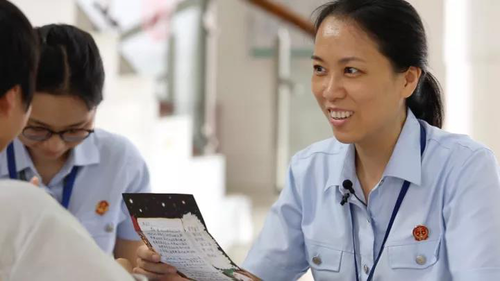 Chen Haiyi helps and educates a juvenile offender at the Juvenile Offenders Rehabilitation Center in Guangdong Province. [China Youth Daily]
A girl who is serving her sentence in jail writes a letter to Chen Haiyi. [China Youth Daily]
(Source: China Youth Daily/Translated and edited by Women of China)