Ju Ping (R) and Su Qixiang (L) [Women of China/Zhang Jiamin]
The All-China Women's Federation (ACWF) organized a special symposium on April 17 at the National Center for the Performing Arts, aimed at inspiring women nationwide to cultivate a positive spirit and try their best to pursue their dreams.
For the event, five National March 8th Red-Banner Award winners from various industries were invited to share their personal experiences and reflections on life.
Well-known CCTV Children's Show Host Ju Ping
Ju Ping, one of the most well-known children's show hosts in China, talked about her experience of becoming a celebrity after working as a kindergarten teacher and graduating from secondary school.
In her presentation, Ju, a host from China Central Television (CCTV) Children's Channel, showed a selection of fan letters that she kept for more than 30 years, claiming these are her most valuable possessions.
"I value each letter and make great efforts to maintain a close relationship with everyone," Ju said.
"I have preserved a cotton-padded jacket which was made by an audience member who used to watch one of my TV shows Tangram Puzzle. So far, I still keep in touch with her."
Ju's current achievements owe much to her passion for work, dedication to her career and sincerity towards others.
Satellite Navigation System Expert Wang Shufang
Wang Shufang, 44, is deputy-director of the navigation center of China Transport Telecommunications and Information Center affiliated to Ministry of Transport.
Wang introduced her efforts in research, development and promotion of the nation's own satellite navigation system over the past two decades.
To pursue her dream of developing the Beidou Navigation Satellite System, Wang said she delayed the birth of her child for 10 years. She even could not even accompany her parents before they passed away due to her busy work schedule.
Although she made much sacrifices to her career, Wang stated she did not regret her choice. "I believe all of my endeavors are worthwhile even one traffic accident can be avoided or a person's life can be saved."
CEO of TV Production Company CEO Yang Hui
"I am in awe of my profession all the time and have a firm determination to spread a positive spirit to the audience," said Yang Hui, founder of Shanghai Vivid Media Company.
At the event, Yang made a speech titled "Guard Initial Heart, Fly Dream: My Ambition for Media".
From a temporary worker to the CEO of a TV production company, Yang stated she always sticks to her dream and fulfills her responsibility of being a standard media professional over the past 20 years.
Under the leadership of Yang, her team has created multiple TV series such as The Voice and Boss Town, greatly motivating audiences to cultivate their positive energy.
Renowned Economist Sun Qixiang
"Growth is not a word just belonging to the youth. Life lies in your choices," said Sun Qixiang, dean of the School of Economics at Peking University (SEPKU).
Sun was the first female dean of SEPKU. She is the first Chinese and the first woman to win the International Insurance Society's John S. Bickley Founder's Award, one of the highest honors in insurance circles.
She interpreted her understanding of excellence at the event: "If we have confidence, independence, tenacity and kindness, we are sure to gain respect from others and society."
Fashion Designer Guo Pei
Founder of Beijing Rose Fashion Company, Guo Pei introduced her design philosophy and rarely-known stories to participants.
A foreigner wanted to buy one of her designs with an offer of 5 million yuan (U.S.$ 726,343), Guo mentioned. However, she refused and maintained, "My products are not only for making money but also a feedback to society."
As the first custom-made fashion designer in China, Guo has used her wisdom and efforts to make the clothes of traditional Chinese elements famous throughout the world.
Audience member Wang Yefan commented, "These five outstanding women helped me know what is a dream and the meaning of persistence. They shoulder heavy burdens in modern times and demonstrate the power of inspirational examples."
Guo Xin, assistant director of the Office of Audience Sitting of the National Center for the Performing Arts, said: "The five invitees have fully proved females are as excellent as men through their personal experiences.
"Inspired by them, I believe every female can realize her life value as long as she has a faith and a dream."
Around 500 people present at the event included Zhang Xiaoyuan, director-general of the Publicity Department of the ACWF; Zhou Jing, vice-president of Beijing Women's Federation; Wang Zhengming, deputy-secretary of the Party committee of the center; female staff members from state organs and from Beijing, female university students from Beijing, women's groups and women who signed up for the event from media outlets.
Ju Ping, a famous host of the China Central Television (CCTV) Children's Channel [Women of China/Zhang Jiamin]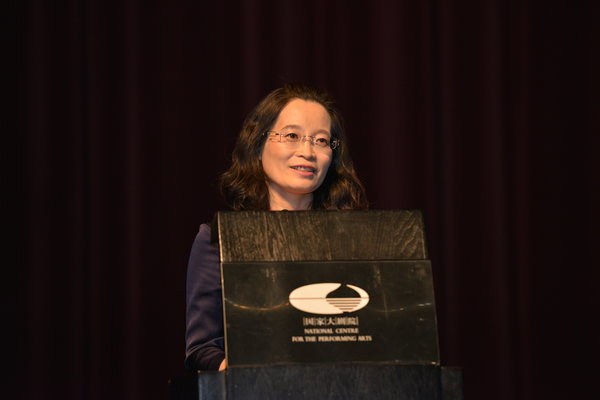 Wang Shufang, deputy-director of the navigation center of the China Transport Telecommunications and Information Center affiliated to the Ministry of Transport [Women of China/Zhang Jiamin]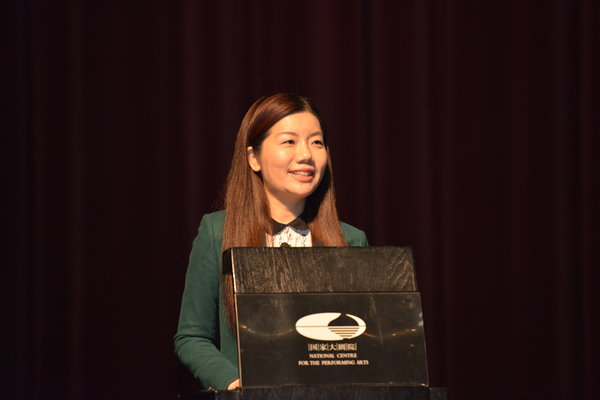 Yang Hui, founder of Shanghai Vivid Media Company [Women of China/Zhang Jiamin]
Sun Qixiang, dean of the School of Economics at Peking University [Women of China/Zhang Jiamin]
Yang Hui (L) and Guo Pei (R)[Women of China/Zhang Jiamin]
Ju Ping and two participants. [Women of China/Zhang Jiamin]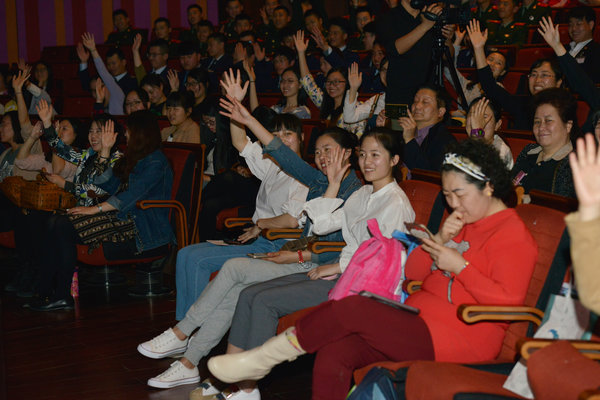 Several attendees put their hands up to ask questions. [Women of China/Zhang Jiamin]
Attendees applaud at the event. [Women of China/Zhang Jiamin]
Participants carefully listen at the activity. [Women of China/Zhang Jiamin]