Guan Gaiyu [acwf.people.com]
To celebrate International Women's Day (March 8), officials from the All-China Women's Federation have named 10 role-models as National March 8th Red-Banner Pacesetters for making extraordinary achievements in their work.
Guan Gaiyu, a Communist Youth League Member, serves as a rail-flaw detection worker and the vice-president of the labor union at CR178G Laying Rails and Bridging Company of China Railway 17th Bureau Group Co., Ltd.
Rail-flaw detection is a kind of quality test for the joints of railways. It is an important sector in railway affairs as it guarantees the safety of both railway running and passengers' lives.
Being the only female rail-flaw detector in the company, Guan has successively participated in eight national major railway-construction projects since she took the job in July 2009.
She has covered an accumulated 1,700 kilometers of railroad, which means 16 kilometers every weekday, according to her statistics.
Carrying a five-kilogram instrument, she checks joints one by one along the railroad every day. The difficulties she faces are unimaginable: from freezing winters to boiling summers, she keeps working despite extreme weather and conditions. Though fearful of heights, she sometimes has to climb up 20-meter-high bridges for inspections.
After work, she digs into rail-law detection technology, which has gradually formed her pair of "sharp eyes": the accuracy rate of some 8,000 joints she has inspected has surpassed 95 percent.
In a time where we are witnessing the rapid development of high-speed railway, Guan boldly forges ahead to develop cutting-edge techniques of rail-flaw detection, leading a national first ever research group with various professions to new heights. In addition, she was the chief writer of Flaw Formation Mechanisms and Control Methods, which is widely used among China Railway 17th Bureau Group Co., Ltd.
Guan has received various national and local awards such as National March 8th Red-Banner Pacesetter and Top 10 Outstanding Female Employee.
Wu Yaqin
Wu was born in 1960 and is a member of the Communist Party of China (CPC) as well as the secretary of the Party ommittee and vice-president of the women's federation in Changshan Community in the city of Changchun, northeast China's Jilin Province.
Wu has been dedicated to her profession for 20 years, during which time she has helped 539 local residents find jobs and assisted some 100 people to start their own businesses. In addition, the "ten-minute service for the elderly " initiated by Wu has solved many of the obstacles found in home-based elderly care, and she also established the "dandelion children's home " after-school public classes which provide local parents with a childcare relief service. Moreover, she led the local communist Party members to improve the local community environment by solving property management problems in old blocks and neighborhoods.
She has boldly created and taken responsibility, consummated the "four steps working method' and actively carried out 'democratic autonomy" among communities, forming a democratic consultation governance mechanism in which residents were deeply involved.
She created the "12 methods of civil mediation" and explored several special working methods, which have safeguarded a healthy community with no crime, no instances of domestic violence, no drugs and no drop-outs, maintaining a stable and harmonious society.
Wu has received various national and local awards such as National March 8th Red-Banner Pacesetter and National Advanced Worker.
Born in 1956, Zou is a member of the Communist Party of China (CPC) and the director of the Medical Service Department of The Fourth Affiliated Hospital of Nanchang University, and vice-chairperson of the Red Cross in southeast China's Jiangxi Province, as well as chairperson of Jiangxi Female Volunteer Association.
Zou is a leading peer of the Jiangxi Red Cross volunteers and a prizewinner of the 44th Nightingale Awards. She is dubbed a "Super Volunteer" who has worked for a total of nearly 30,000 hours over the past 14 years, which is 10 times the Red Cross' top-award standard.
Thanks to Zou's efforts, the volunteer group of Jiangxi Red Cross Volunteer Service Center in Nanchang University was established. After years of development, the group has been upgraded into a 10,000- volunteer team, which serves 900,000 people in total and has more than 200,000 citizens as long-term targets.
In 2014, Jiangxi Zou Defeng Public Development Center came into being and currently has more than 8,000 volunteers and some additional 6,000 registered volunteers. The center has been active in hospitals, communities, schools, elderly people's homes and psychological consultation offices over the years and was awarded with the National Outstanding Female Volunteers Service Group and National Outstanding Female Volunteers Service Project.
Zou has received various national and local awards such as National March 8th Red-Banner Pacesetter, Top 10 National Outstanding Volunteer and National Medical Ethics Role Model.
Wang Shufang
Born in 1972, Wang is a member of the Communist Party of China (CPC) and serves as the vice-director of the Navigation Center of the China Transport Telecommunication and Information Center.
Wang has dedicated herself to the China Beidou project for 22 years. China Beidou, which has created a series of technological miracles, is a project in China's satellite navigation circles.
After graduating from Beijing University of Aeronautics and Astronautics in 1995, she chose to become a military member, preparing to join the Beidou project. Twelve years later, she gave up all her achievements made in military circles and became a Beidou leader who contributed to Beidou's industrialization and informatization. From diligently studying in the former 12 years to using her knowledge to benefit the general population, Wang is a true public servant.
Being a project designer and a plan-demonstrator for two Beidou generations, she has made up the technology gap with other countries through her multiple professional results.
She has also taken part in several classic deeds speech activities on behalf of central state organizations and the All-China Women's Federation, earnestly practicing socialist core values.
Zou has received nine Technology Progress Awards and national awards such as National March 8th Red-Banner Pacesetter and Female Achievements Advanced Individual.
Lü who was born in 1968 is the general manager of Jingmeng Plant Professional Cooperation in Mengjin County in the city of Luoyang, central China's Henan Province.
Running a fruit business since 1989, Wu harvested a booming fruit career with her honest attitude and favorable service.
In 2009, she returned back to her hometown and signed the deeds on a huge piece of land, on which she grew strawberries in the greenhouse. Though her strenuous efforts, she now has 67 strawberry greenhouses. In order to involve more local villagers in the business, she founded a cooperation which aims to provide villagers who want to grow a strawberry farm with systematic assistance from matters of seeds to technology, packaging and marketing.
With her help, local rural households can yield an average annual revenue of 100,000- 300,000 yuan (U.S.$ 14,470-43,420).
In addition, she held three vocational training sessions for 150 local physically-impaired villagers. In 2012, she invested money to build the Shilixiang Agricultural Tourism Zone, which creatively combines tourism with fruit-picking and fruit-selling, and receives hundreds of tourists every day.
At present, she is running a larger enterprise with nine fruit and vegetable growing zones, which has provided an additional 5,000 local jobs. She has also donated more than 400,000 yuan (U.S.$ 57,900) to build some 40 greenhouses for 176 impoverished households and 34 college-graduate village officials.
Lü has received a series of national awards such as National March 8th Red-Banner Pacesetter and Female Achievements Advanced Individual.
Wu Dongyan
Born in 1986, Wu is a member of the Communist Party of China (CPC), and serves as a technician and monitor of the signal class in the squadron second-zone of the Communications Division of the People's Liberation Army Navy on China's first aircraft carrier, Liaoning.
As a monitor, Wu successively participated in a series of major tasks including "Harmonious Mission-2010" International Marine Multilateral Medical Assistance initiated by 'Peaceful Ark' Hospital , the aircraft carrier's maiden trips, Annihilates - 15 aircraft's first aircraft-landing take off, voyage trails in trans-regions in the South China Sea, aircraft carriers' previous marine trainings.
Wu has been on night watch for an accumulated 3,600 hours, during which time she received some 6,000 messages without any errors. She has also been named a Model CPC Member many times.
She translated some 300,000 words of naval vessel duty-using English materials and important foreign military data, and brought forward 49 improvement suggestions, which focused on dealing with the flag-muddling issues that often happen when aircraft carriers hoist flags. She invented a flag-hanging method using double shackles, vastly improving the flag-hanging efficiency.
Now as the first female ephor on Liaoning, Wu actively innovates a female-oriented management model, caring for female crew members from minority groups and fully enhancing the group and the bond of different ethnic minorities.
Wu has received various national awards such as National March 3rd Red-Banner Pacesetter and Third-Class Merit and Outstanding Navy Petty Officer.
Sun Qixiang
Sun Qixiang, 61, is a Han Chinese and holds an economic doctoral degree. She is a member of the Communist Party of China (CPC) and the dean of the School of Economics at Peking University. She is also an expert who receives special government allowances from the State Council, China's cabinet.
Sun is the first female dean of the school in the past 100 years and the founder of the school's insurance speciality. In the eyes of some international scholars, Sun is an icon in China's insurance circles. She received the 2014 John S. Bickley Founder's Award, a top-level award in the international insurance circle, becoming the first Chinese person and first female to claim this award since it was set up in 1972.
Being a recognized academic forerunner in both risk management and insurance circles, the research result from a scheme titled China Insurance Development Plan for the 10th Five-Year Plan Period she presided over was published by the China Insurance Regulatory Commission (CIRC), becoming important programmatic documents and leading China's insurance industry from 2001-2005.
She also composed the textbook Insurance, which was well-received and regarded as both the prescribed textbook and the recommended textbook for Insurance and Financial majors in tens of Chinese universities.
Sun has received various national awards such as National March 8th Red-Banner Pacesetter, the 3rd University Teaching Masters' Award and the first Chen Daisun Economic Paper Award.
Gao Shuzhen
Born in 1965, Gao is a member of Communist Party of China (CPC) and serves as party secretary in Sanjianxi Village, Zhangqiu District in the city of Jinan, east China's Shandong Province.
There are two important appointments in Gao's life. The first was being appointed as the Party secretary of her home village. Though pregnant, she resolutely accepted the challenge and started a five-year struggle, leading local villagers to start substantial businesses from spinning to pottery, fish breeding and poultry raising. Gradually, the long-held pack-ways in the village became cement roads. Local households were installed with water supplies and electric systems. She finished the tasks assigned by the Party, converting herself from a public teacher to an outstanding Party branch secretary.
At her second appointment, she became Party secretary of her mother-in-law's home village. Facing a hamlet with extremely poor conditions, she sparked innovative thinking, and rallied the common aspirations of the villagers. She creatively launched a variety of initiatives entitled Restful Families, popularizing her working experiences nationwide.
She took the lead in constructing a network service system for the general population, vitalized 10 local enterprises and introduced 70 businesses through attracting extraneous investments and implementing innovative reforms. The village's total revenue then leapt from being 800,000 yuan (U.S.$ 115,600) in debt to a net income of 3 million (U.S.$ 433,600), greatly improving villagers' per-capita earning. Under her leadership, the village was named a National Democratic Model Village and National Restful Families Initiative Advanced Model Village.
Gao has received various national and local awards such as National March 8th Red-Banner Pacesetter and Shandong Outstanding Female Village Official.
Chen Shaofeng
Born in 1982, Chen is a member of Communist Party of China (CPC) and serves as the director of the Political Department of Hainan Public Security Frontier Corps Hospital in south China's Hainan Province.
Recruited as a police officer in 2004, Chen volunteered to work in public security to handle cases together with other male police officers. With her newly mastered criminal-catching skills, she has been the first-line guardian of the patrol's security administration, taming gun-toting offenders independently. To date, she has dealt with some 150 cases and has arrested nearly 100 criminal suspects of various kinds.
Her heart is tied in knots over the security of local residents. When the typhoon landed Hainan, the police led by her safely transferred more than 930 trapped residents and some 60 tons of goods and materials, settled 197 homeless local people and avoided more than 1 million yuan (U.S.$ 144,800) of economic losses.
In addition, she cares about the difficulties faced by the general population. She has shown concern for solitary elders and sick children throughout the years and tries every possible means to handle concrete affairs and solve problems with fine appetency, gaining people's full support for frontier police work.
Moreover, she is concerned with police officers' development, and attentively has heart-to-heart talks with them. She spares no efforts in helping their family members obtain employment, and steadfastly carries out poverty-alleviation projects.
Chen has received various national awards such as National March 8th Red-Banner Pacesetter, and has claimed the Third-Class Merit three times.
Born in 1956, Wang, who has a doctoral degree and is a member of the Communist Party of China (CPC), currently holds the post of general manager of West China-Frontier PharmaTech Co.,Ltd. based in Chengdu, southwest China's Sichuan Province, and receives special government allowances from the State Council, China's cabinet.
Wang is also a responsible specialist of the country's major technological projects and the chief expert of the 863 scheme. As the organizer and duty officer of the National Natural Science Foundation's major projects, she takes charge of platform-building, research and application projects in medical science including pharmacy, experimental animals, traditional Chinese medicine and serious diseases, garnering a total special fund of more than 100 million yuan (U.S.$ 14.48 million).
In 1996, Wang founded Chengdu Saiwei Aloe Products Company. In 2001, she further established West China-Frontier PharmaTech Co.,Ltd, or National Chengdu Center for Safety Evaluation of Drugs(NCCSED) based in West China Hospital, Sichuan University, which is so far a drug clinical evaluation research platform of the largest scale with the strongest comprehensive strength in domestic circles.
In 2011, she set up Sichuan Green-house Biotech Co., Ltd., promoting the standardization of the experimental animal industry in a large-scale manner. In 2013, West China Hospital invested in Sichuan Kangcheng Biotech Co., Ltd, marking their march into the service industry of new-drug efficiency evaluation technology.
Wang has received various national awards such as National March 8th Red-Banner Pacesetter, the second prize of National Science and Technology Progress Awards and the first prize of 'MOE (Ministry of Education) Science and Technology Progress Awards.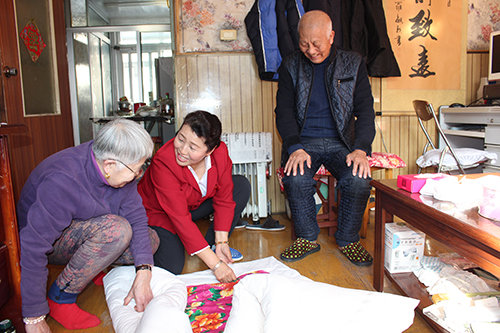 Wu Yaqin(C) [acwf.people.com]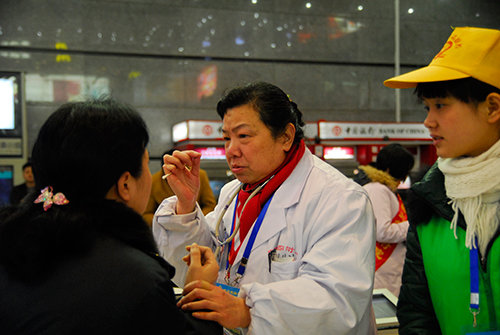 Zou Defeng(C) [acwf.people.com]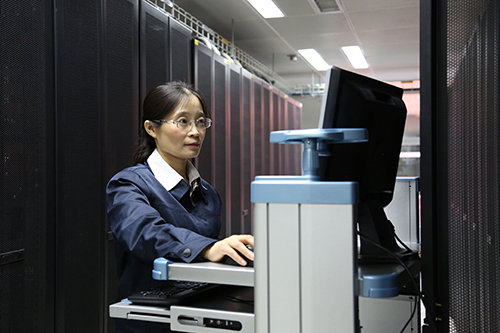 Wang Shufang [acwf.people.com]
Lü Miaoxia(R2) [acwf.people.com]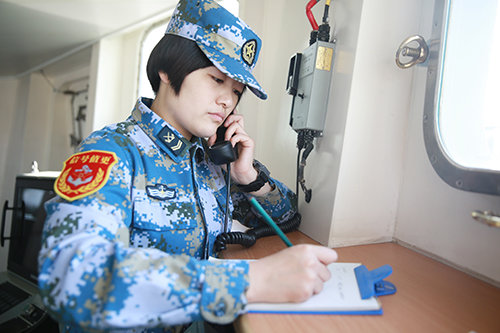 Wu Dongyan [acwf.people.com]
Sun Qixiang(center in beidge) [acwf.people.com]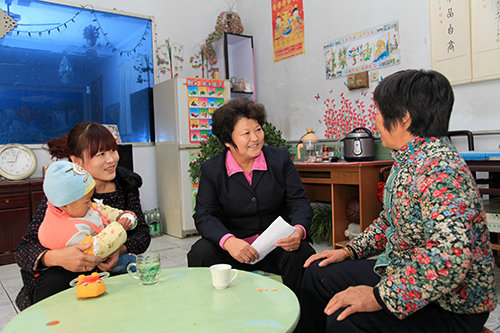 Gao Shuzhen(C) [acwf.people.com]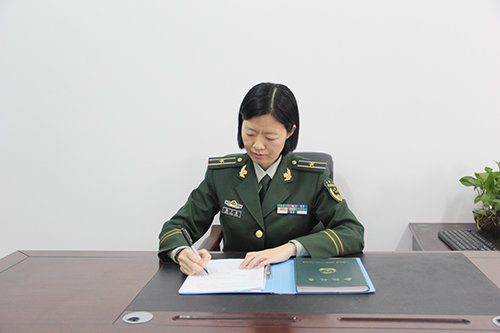 Chen Shaofeng [acwf.people.com]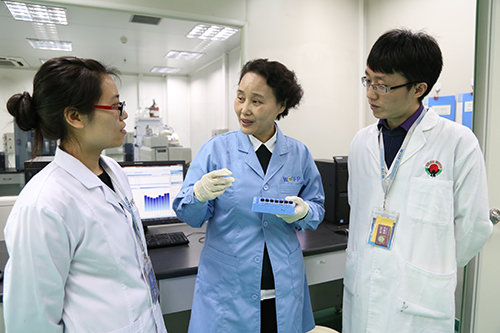 Wang Li(C) [acwf.people.com]
(Source: acwf.com.cn/Translated and edited by Women of China)