Chen Shaofeng gives a speech. [Women Voice]
A female police officer from Haikou, capital of south China's Hainan Province, has utterly dedicated herself to fighting crime and helping people in need for 13 years.
Chen Shaofeng, director of the Political Division of the Public Security Frontier Corps Hospital in south China's Hainan Province, has shown wisdom and courage in her work.
Cracking Criminals
Upon joining the frontier forces in 2004, Chen volunteered to work on the front line fighting crime and maintaining public security.
She took part in patrols and criminal-case investigations actively, refusing to be outdone by her male colleagues. So far, she has helped to crack over 150 cases and capture nearly 100 criminal suspects.
Due to her outstanding work achievements, Chen was named the acting political instructor of the West Coast Frontier Police Station in Haikou at the age of 28, becoming the youngest grassroots supervisor in the province's frontier forces at that time.
After taking office, she spared no efforts to do her job well. Meanwhile, with many years' experience of handling cases, she continued to lead police to struggle in the frontline of fighting crimes.
In June 2014, Chen became political instructor of Xinbu Frontier Police Station in the city's Xinbu District. Less than two months later, over 20 households falling within the jurisdiction of her police station were burgled.
In addition, earlier that year, before Chen was transferred to the district, over 30 local residents were the victims of several fraud cases. Of them, many were elderly people from northern China, who migrated to the city each winter due to its favorable climate.
Under great pressure, Chen led her teammates to carry out meticulous investigations and found traces and clues left by criminals.
They then laid ambush at key highway sections and finally caught these thefts and swindlers.
Rescuing Residents Trapped by Strong Storm
On July 18, 2014, the island province was struck by Super Typhoon Rammasun, one of the strongest seen in Hainan in 46 years.
Xinbu District was in a mess, with fallen trees and power poles, collapsed houses and flying tree branches, debris and trash bins.
In the face of the big disaster, Chen led police to carry out rescue and relief work immediately, regardless of her own safety.
By 9 p.m. that evening, the wind force had reached the 10th grade, trapping 20 residents of the district's Sanlian Village in a shrimp-breeding house.
At that time, sea water had already flowed inland, with the water level on the roads growing.
The road to the village was full of fallen trees. In addition, the rain was so heavy that they could hardly see anything in front of them.
Chen led police to grope their way with tools in hand. After over half an hour's hard struggle, they finally got to the breeding house.
The gate of the rural yard surrounding the house had already been blocked by trees and stones due to the strong wind, so Chen had to climb over a 3-meter-high wall, which might fall at any time.
Thanks to her colleagues' help, she climbed into the yard and found the trapped villagers. Then, coordinating with police outside, she evacuated villagers outside one after another.
During the disaster, Chen and her team transferred more than 930 people, over 350 cattle and some 60 tons of goods and materials, settled 197 homeless local people and avoided more than 1 million yuan (U.S.$ 144,800) of economic losses.
Offering Care to Solitary Elders
In the eyes of lady Huang Yuqin from Datong Community in the city of Haikou, Chen was like a thoughtful daughter.
In 2007, when Chen served at the West Coast Frontier Police Station, she got acquainted with Hang when performing a task and began to care for her.
After Chen was transferred to Xinbu District, she could not look after the old lady as before due to the long distance, so she contacted relevant departments and sent Huang to a nearby nursing home. Chen often visited Huang during holidays, chatting with her and bringing her new clothes.
82-year-old Wang Yimei lived in Henggou Village in Xinbu District. Wang's daughter worked away from home all year round, so Chen often visited her home and helped her do housework. She also bought Wang a fitness ball used for elderly people.
80-year-old Xu Hui was paralyzed by a leg injury. To make it easier for Xu to walk, Chen gave her a multifunctional crutch, which could also be used as a chair. In addition, after negotiating with social security departments, she solved the inconvenience met by Xu in reimbursing her medical bills.
After being appointed to her current post, Chen continued her care and assistance of elderly people in her region.
Under her leadership, soldiers in her hospital carried out over 10 volunteer health examination activities at Haikou City Social Welfare House and provided more than 90,000 yuan (U.S.$ 13,070) worth of free medicine.
Helping Underprivileged Children
In July 2009, when Chen handled a fraud case, she learned that a suspect's son was lost from his kindergarten.
She asked police to help find the child immediately. After two days and two nights' hard search, they finally found the 3-year-old in the corridor of a building.
Chen took him back to their police station and looked after him carefully until his grandfather took him back home.
Touched by Chen's kindness, the child's mother confessed her crime and exposed the illegal acts of other suspects, helping the police crack another two cases successively.
In Haikou, there was a special education school exclusively for children with autism, mental impairments and other congenital illnesses.
Chen often led police to visit the school during holidays and weekends, bringing these children books, stationery and daily necessities.
In addition, they also chatted, sang songs and played games with them to let them feel familial care and warmth.
Assisting the Development and Lives of Soldiers
In local soldiers' eyes, Chen was an intimate elder sister who was always ready to solve their difficulties.
To improve soldiers' education level to let them enter society in a better way after leaving the forces, she tried her best to create good learning conditions, such as buying books and inviting famous teachers to give them classes.
Under her assistance, 13 soldiers were admitted by military schools, and another eight completed their university studies by taking correspondence courses.
The family members of many soldiers had no jobs, causing great financial pressure to their families.
Upon hearing of this, Chen communicated with government departments and community committees, holding training sessions for soldiers' family members to equip them with relevant vocational skills.
Meanwhile, she contacted local business owners, recommending soldiers' relatives to enterprises.
On February 27, Chen was honored as one of the 10 National March 8th Red-Banner Pacesetters by the All-China Women's Federation for her great achievements and contributions.
Chen Shaofeng (R1) visits a fisher in the jurisdiction of their police station. [Women Voice]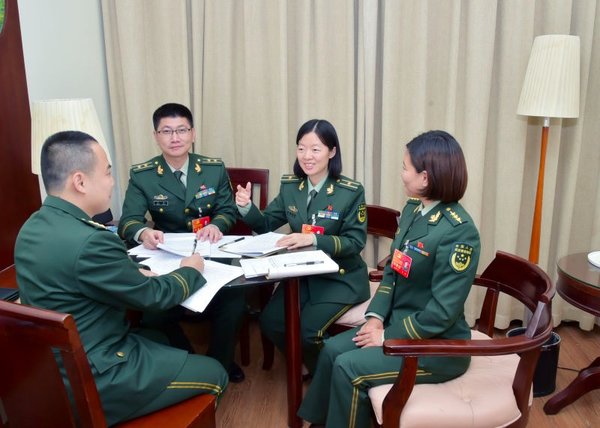 Chen Shaofeng (R2) studies with three soldiers. [Women Voice]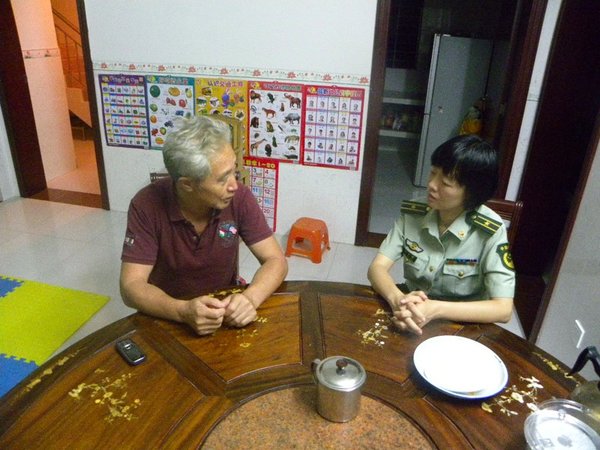 Chen Shaofeng visits an elderly people. [Women Voice]
Chen Shaofeng plays with a child. [Women Voice]
Chen Shaofeng (L3) makes dumplings with soldiers. [Women Voice]
(Source: CCTV/Translated and edited by Women of China)