Sun Qixiang [Women Voice]
Sun Qixiang, dean of the School of Economics at Peking University (SEPKU), which specializes in domestic risk management and insurance, has made great achievements in teaching and scientific research.
Sun was the first Chinese professional to become a board member of the International Insurance Society, and the only Asian scholar to have served as moderator at their annual meeting for more than 10 years in a row.
She has been acclaimed by her international peers as a person "with a remarkable ability to make a perfect combination of Chinese and Western insurance education."
Moreover, she was the 2014 recipient of the IIS's John S. Bickley Founder's Award, the highest honor in insurance circles – and was the first female winner since the award was set up in 1972.
Despite her prominent achievements, Sun is always modest and often attributes her success to her country, according to those who know her.
In 1979, she was admitted by Lanzhou University's Department of Economics in Lanzhou, capital of northwest China's Gansu Province. Since then, she has concentrated on relevant research.
After her post-graduate studies, she began to teach at SEPKU in 1992.
Over the last three decades, China has experienced a rapid growth in its economy, creating considerable opportunities for scholars like Sun.
In 1993, Peking University decided to set up an insurance major and arranged Sun to be in charge. Since insurance was still a new subject then in the country's higher education institutions, she set her mind to compile a textbook.
After constant revisions, publishers finally released her textbook Insurance. So far, five editions have been issued, winning her many awards. The book has been adopted by dozens of domestic colleges and universities as a key coursework material.
Under her leadership, Peking University's insurance major has rapidly developed, being honored several times by national officials.
The China Center for Insurance and Social Security Research of Peking University (CCISSR), which she founded in 2003, was rated as an outstanding research center three times in a row and has been taken as an important exchange platform by domestic and foreign risk management and insurance experts.
Sun has compiled over 20 books and written nearly 100 research papers. In addition, she has undertaken over 20 research projects entrusted by government departments, international organizations and enterprises.
An expert once commented: "Sun always dedicated herself to leading-edge innovation and research. In addition to commercial insurance, her research fields also involve social security, making her an important adviser and think tank member for policy-makers."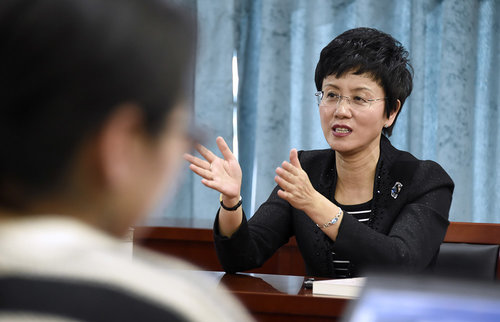 Sun Qixiang gives a class. [Xinhua]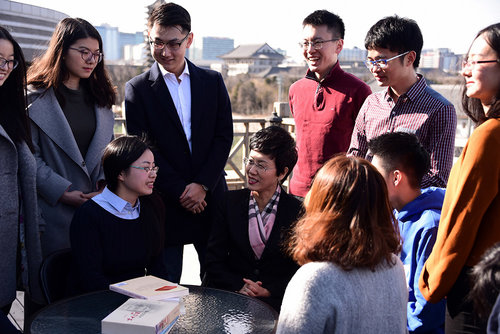 Sun Qixiang and her students [Xinhua]
(Source: People's Daily/Translated and edited by Women of China)