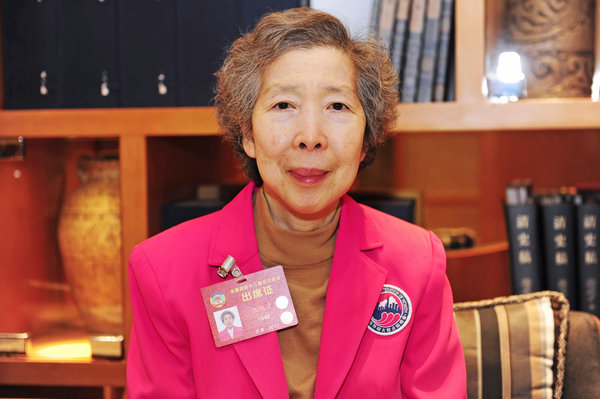 Annie Wu [Women of China/Fan Wenjun]
CPPCC Member Annie Wu recently made a proposal at this year's "Two Sessions", in which she said teenagers in Hong Kong should be taught more about recognizing their local Chinese identity.
Wu, who also serves as honorary chairperson of Beijing Air Catering Company, suggested that students should participate in activities such as raising the national flag and singing the national anthem in Mandarin.
In particular, these activities should be performed each morning before class in every public kindergarten, elementary and secondary school, Wu noted.
Wu said that other places could be encouraged to benefit as well, such as directly subsidized schools and grant-in-aid schemes supported by charitable organizations or religious groups.
Wu has attached great importance to education in Hong Kong since the 1980s. She established the Historical and Cultural Education Fund for Chinese Teenagers in 1998. The fund aims to organize around 10,000 Hong Kong teenagers to visit the mainland each year, Wu says.
During the trips, youngsters would learn about national history and culture; muse on the nation's future; and, follow the educational goals of the government of Hong Kong – "I am a Chinese and Hong Kong is my home."
In 2000, Wu founded the Chinese Foundation Secondary School, which she hoped could serve as a positive model in fostering young talents for the Hong Kong Special Administrative Region (HKSAR) government.
In recent years, Wu has organized hundreds of further tours to the mainland after combing the joint efforts of local social groups and philanthropists.
Through learning, traveling, and practicing in social activities, many teens have embraced increased sentiments toward the country, Wu commented.
"The first generation of students who graduated from my school have already been serving in the administrative region's government," Wu said.
"Some work at the HK immigration department or in the police bureau, and they often recall the first time they witnessed the flag-raising ceremony in the Tiananmen Square when they were 15 or 16," Wu recalled.
"In my opinion, this kind of national identity is a concept deeply rooted in the heart, instead of being a verbal thing," she says.
"HK will encounter one of its most significant years in 2017, as it will celebrate its 20th return anniversary to China and hold a new-term election for the HKSAR Chief Executive," Wu noted.
"In the past, schools in HK pursue for elite education," Wu believed.
"Therefore, I am delighted to see my students can serve people in HK at various fields. I hope my education model can also affect and lead other schools to join the initiative," Wu added.
Many praised Wu for her outstanding efforts in promoting the communication and development between the HK and the mainland.
So far, over 40 Chinese mainland cities become members among a total of 326 cities across the globe in the World Trade Centers Association (WTCA), owing much to Wu's promotion who serves as first Chinese board member of the association since 1995.
In addition, Wu is also dedicated to attracting foreign investments into mainland China and supporting domestic enterprises to explore in the outbound markets.