Sha Yuanju [China Women's News/Jia Yingying]
Three female deputies to China's National People's Congress (NPC) recently shared their thoughts about fulfilling their job responsibilities as grassroots deputies.
Sha Yuanju: Focusing on Grassroots Livelihood
Sha serves a sales manager in a fur-trading company in Cao County, east China's Shandong Province.
During her five-year term as a NPC deputy, Sha has mainly focused on issues concerning people's livelihood, ideological promotion in rural areas, migrant workers and schools for their children.
"All of my proposals reveal the reality of conditions at a grassroots level," Sha said.
"I am happy to witness the ever-improving changes which have happened in our life, especially in terms of those issues I've highlighted," she added.
"My job as a salesperson enables me to be in touch with many migrant workers. They are often forced to confront problems such as unpaid wages and a shortage of essential training," Sha explained.
"That is the reason why I made several proposals about setting up a place for workers to study and attend skills sessions.
"I have received replies to each proposal I offered after the Two Sessions. When they close, I convey the conference spirits to local workers.
"As a Hui deputy, I took part in this year's seminar for ethnicities. Even though it is my last year as a NPC deputy, I would like to continue helping as many people in need as possible," Sha noted.
Liu Li: Speak for Mothers
At last year's two sessions, Liu attracted a large amount of public attention since she was heavily pregnant. Now, Liu has brought her 7-month-old baby together with her to attend the session this year.
"I think being a mom may be the most difficult job in the world," noted Liu, who also serves as a store manager and pioneer for a local social welfare group.
Starting from scratch as a manual worker, she is particularly dedicated to protecting the rights and interests of grassroots workers.
"I want to speak on behalf of vulnerable people such as children and rural migrant workers. Also, women should become self-dependent and continuously improve themselves," Liu said.
Zeng Xianggui: Represent Migrant Workers
Zeng is the first rural migrant worker who has been promoted to the position of NPC deputy in the city of Dongguan, south China's Guangdong Province.
"The session enables deputies from various fields to exchange ideas on national policies and grassroots circumstances," Zeng said.
During her term, Zeng called for improving migrant workers' educational levels, medical care services and speeding up household administration in cities where they are working.
After the Two Sessions, Zeng will organize seminars among local schools, enterprises and grassroots people's congresses in order to spread the latest sessions' spirits.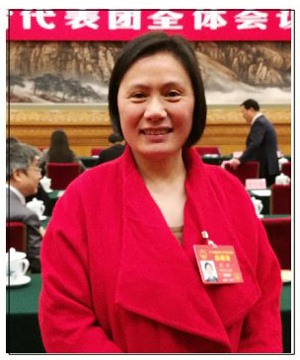 Liu Li [China Women's News/Gao Li]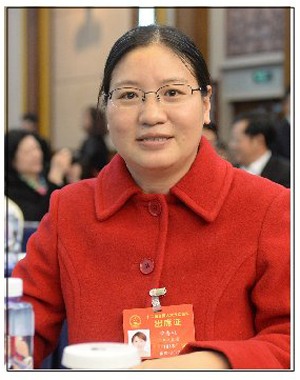 Zeng Xianggui [China Women's News/Lin Zhiwen]
(Source: China Women's News/Translated and edited by Women of China)