Meng Xiaosi [Women of China/Fan Wenjun]
After the All-China Women's Federation (ACWF)'s joint group meeting with the Chinese People's Political Consultative Conference (CPPCC), members shared their uplifting stories of 2014 as a means of celebrating International Women's Day, which falls annually on March 8.
Meng Xiaosi, vice president of ACWF, opened by sharing her opinion:"The breakthrough in small-sum guaranteed loans with financial discounts for rural women is the strongest point of pride for the ACWF. It has benefited 5 million people directly and has helped to secure employment for more than 15 million people." Awarded at the 2014 APEC Summit (held in Beijing in November) as the best initiative in support of women's entrepreneurship and employment, this measure enables many women to pursue their own startups and helps them to realize their dreams in entrepreneurship.
For member Hong Tianhui, what brought her the most joy is the improvement of children's nutritional subsidies — an improvement that was seen with her own direct efforts. When she paid a visit to southwest China's Yunnan Province last year to conduct investigative research, she was delighted to see that the 3-yuan (50 US cents) nutritional subsidies for children really played an important role in children's growth, as local governments made full use of every cent. Moreover, considering the increasing prices in China, Hong suggested increasing the subsidy to 4 yuan (67 US cents) — a fairly significant increase overall, given the breadth of the subsidy initiative. However, it wasn't long before she heard the good news of her proposal's approval, and the new 4-yuan subsidy amount was implemented in November 2014.
In addition to favorable policies and measures that help improve the lives of women and children, members also shared their own happy stories in work, family, and life in general. Tang Xiaoqing, former vice president of Beihang University, was happy to continue her favorite research and studies after retiring. Shang Shaohua was pleasantly surprised to discover her talent and interest in painting after retiring from her editing job. Li Renzhen was deeply touched when her daughter presented her with endearing, hand-drawn love-themed comics, which moved all the mothers as well when Li shared her daughter's work.
Some members even gave performances to share their happiness. Li Ling met her favorite writer, Hsi Mu-jung — a renowned poet in south China's Taiwan — and recited Hsi's poem A Youth without Regret. Li Ying's opera Chinese People was awarded the highest prize by Ministry of Culture, and she sang a song to express her best wishes to all the members for the momentous day uniting, encouraging and celebrating women worldwide.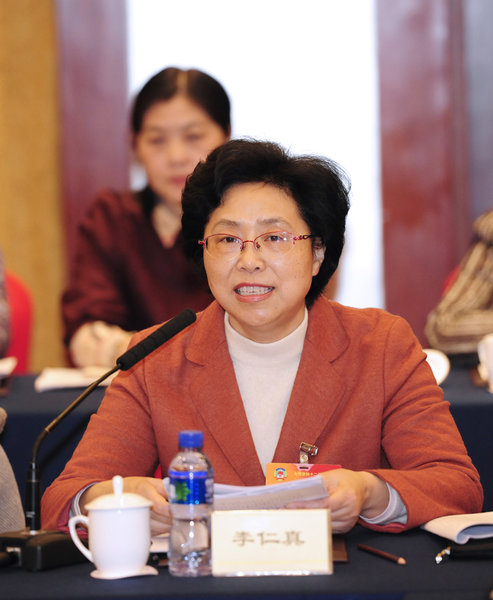 Li Renzhen [Women of China/Fan Wenjun]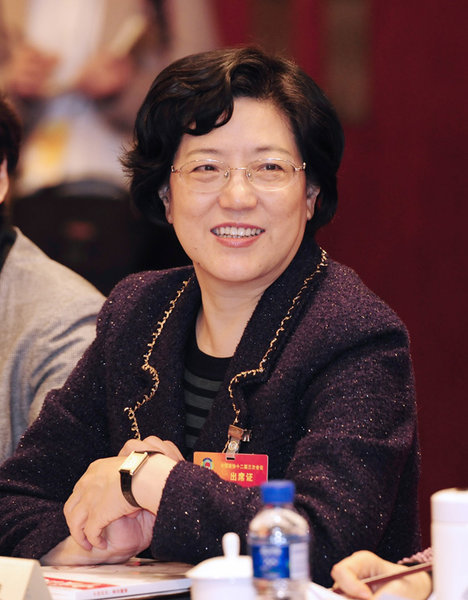 Hong Tianhui [Women of China/Fan Wenjun]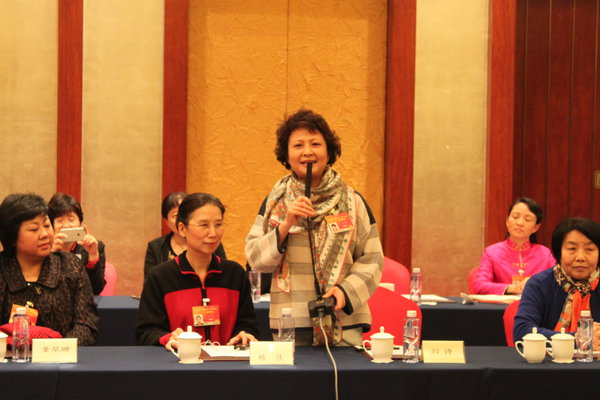 Li Ling recites the poem A Youth without Regret [Women of China/Fan Wenjun]
Li Ying performs a song for the International Women's Day [Women of China/Fan Wenjun]