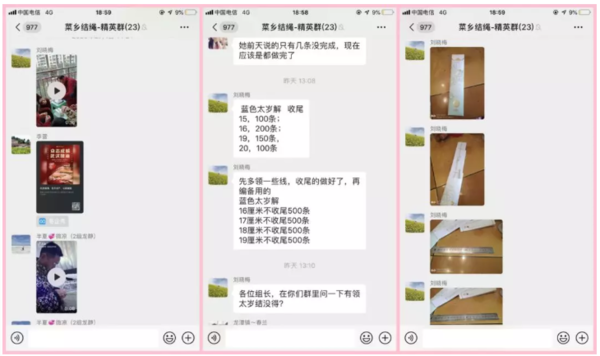 Women in Chongqing Municipality discuss hand-knitting skills through a WeChat group. [For Women of China]
The Women's Federation of Chongqing Municipality in Southwest China opened online courses, to enrich women's lives and promote them to learn skills at home amid the outbreak of the novel coronavirus epidemic.
Entrepreneurs and enthusiasts working on handicrafts have been encouraged to share videos and photos of knitting skills and their crafts via Douyin and Kuaishou, the video-sharing social networking platforms, and via WeChat, showing the positive attitude of the women in Chongqing.
The Chongqing Hand Knitting Association mobilized its members to publicize and supervise the prevention and control efforts of the epidemic and make full use of the time at home to make crafts.
The women's federations at the district and county levels in Chongqing organized the local women skilled at hand knitting to discuss the hand-knitting skills through the women's federations' official WeChat accounts, WeChat groups and QQ groups, to improve their skills.
The Women's Federation of Fuling District in Chongqing organized some skilled women to record 10-plus knitting and weaving videos. The local women can also learn knitting and weaving skills through the photos and texts sent in the WeChat group.
"The online training helps us continue our good life as normal," a trainee said.
The Women's Federation of Shapingba District in Chongqing has offered three kinds of online embroidery courses for craftspeople according to their skill levels. The district's federation has offered various online courses, including embroidery, tea art, health preserving, child-raising and cooking skills, through WeChat. More than 400 women have participated in them.
The Women's Federation of Changshou District in Chongqing mobilized the skilled women to play a leading role in offering courses of making bamboo weaving, knitting sweaters and weaving brackets with strings through WeChat groups, QQ groups and the official WeChat account of the district's federation. The courses are helpful for more women staying at home to learn the knitting and weaving skills.
The Women's Federation of Banan District has offered online course through its own app. The district's federation not only released the videos of hand-knitting skills, but also offered online courses of housekeeping skills and e-commerce knowledge. The employment information of the local enterprises for women is also available on the app.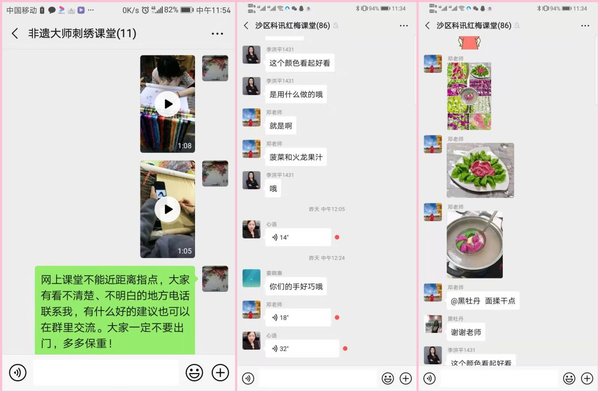 Women in Chongqing Municipality discuss the hand-knitting and cooking skills through WeChat groups. [For Women of China]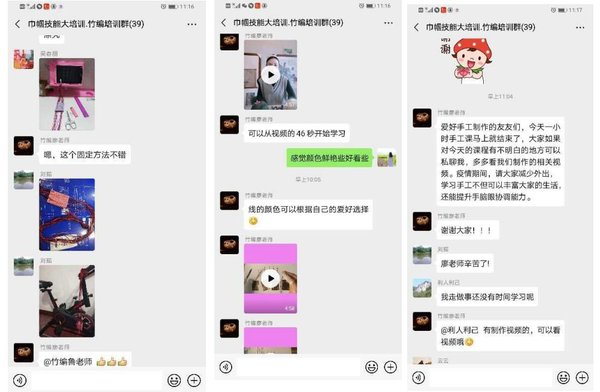 Women in Chongqing Municipality discuss bamboo-weaving skills through a WeChat group. [For Women of China]
Women in Chongqing Municipality display their crafts online. [For Women of China]
Women in Chongqing Municipality display their crafts online. [For Women of China]
(Women of China)